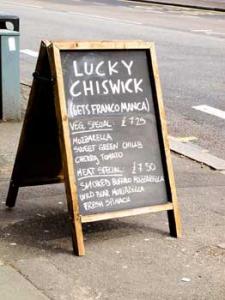 It's a long way to Chiswick when you actually live near the original Franco's in Brixton as I do. Then again I've never managed to eat in that Franco's without a long wait and a bellyful of reggae. The Chiswick outlet has plenty of tables, is a lot cheerier inside and, heavens be praised, takes reservations. Perfect eh?
Well maybe. I'm not sure the pizzas are the same. Yes here they have the same impressive Tufae oven that heats to 500C for a 40 second cook time, and yes the dough used is the same authentic sourdough proved for at least 20 hours from a 'madre' starter that may date back to the 1730s. But ….
The pizzas are perfectly round. I rather liked Brixton's odd-shaped ones. It may have been a marketing ploy – irregular means authentic- but I fell for it happily. The ones here though also seem a bit duvet-like in texture and that's not good. The bottom has correct marks from the red hot oven base, the dough is cooked through, but the fluffiness is excessive and there is no crunch on the edges and little chewiness in the centre. It's quite a cotton-wool mouthful and swamps the toppings without compensating with as much sourness and acidic notes as its South London counterpart.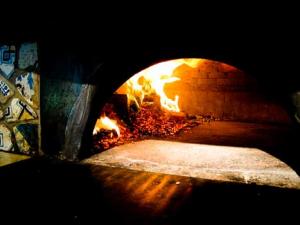 Now it could be that I don't understand or appreciate a true Naples pizza base and if so mea culpa, Franco Manca, but I can only compare to the Brixton version and these aren't as good. However Brixton sets a high benchmark and these are still (leafy) streets ahead of the competition and competitively priced.
So enough querying the base lets get to the toppings. They use Mozzarella from Somerset which is great – whatever you may say about the superiority of Italian Mozzarella the price you pay is a carbon footprint the size of Big Daddy's. Franco's UK supplier, like Laverstoke Farm, uses fresh buffalo milk and traditional, well trained, cheese makers. Add to that excellent chorizo from Brindisa and you're onto a winner. They could add a bit more chorizo though, even if it means upping the price a bit.
I have never warmed to ham on pizza, but if ham it has to be than you could do a lot worse than use Gloucester Old Spot as they do here. Home cured it had great depth of flavour. We also tried one of the day's specials – wild boar mortadella, smoked mozzarella and fresh spinach. Colourful and very tasty.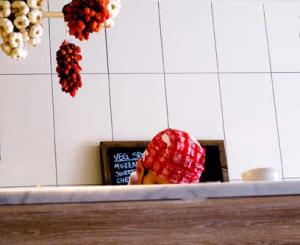 Like Brixton they serve the same honest single supplier wines at bargain prices. The Piedmont organic red is just what I like to drink with pizza and pasta – robust, unpretentious and satisfying. Unlike Brixton they also offer nibbly starter type things, the natives being more sophisticated than us South Londoners, and stand outs of these were a gorgeously chewy spelt laden with parsley, chopped olives, anchovies, capers and herbs and a split Old Spot sausage roasted in the oven with caciocavallo cheese and a touch of tomato. The garlic bread we tried seemed to have no garlic however, unless I have become immune through over exposure at home.
It's hard to write a long review on pizza so I'm not going to try. The short story is that Franco Manca have created an upmarket version of their Brixton outpost that is clean, well lit, colourful and better in every way except one – the bases. It may be that a little tweaking is required, hopefully that will happen. Even so the people in Chiswick are just as fortunate to have Franco Manca as the sign outside modestly suggests.