Gidleigh Park, Chagford, Devon TQ13 8HH www.gidleigh.com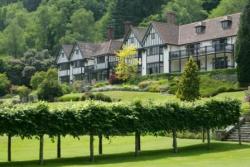 The trouble with heading someplace that everyone proclaims 'you'll absolutely love!" is that it immediately puts the recipient of such a comment on the back foot. By some strange and innately British quotient, if we feel we're being over-sold a film / a band / a new TV show etc (or worse, the idea that someone else has discovered it before us), chances are the 'thing' in question will have to work that bit harder to impress. (Similarly if I'm told 'you must meet so-and-so – they're so funny, you'll love them!' I immediately know I'll dislike them intensely). But I digress…
My oldest girlfriend and I decided to see what the deal was at Gidleigh Park (voted of course last year by Sunday Times readers as the UK's 'Best Restaurant' – beating Heston's Fat Duck, Raymond's Le Manoir and any number of Gordon's establishments. Match point Devon eh?) Gidleigh is therefore now more than ever a by-word for modern British cuisine at its very best. So on confirming a lunchtime reservation for two, I was promptly assured by everyone I know (most of whom haven't actually been to Gidleigh) that I will 'just love it!!!" – triple exclamation marks deliberate. But I've decided of late that I haven't been as picky as I could be, and frankly I think that these guys are big enough to take it.
So here goes – bad bits first (though really, I am kind of scraping the cider barrel here):
First, the atmosphere is ever so slightly… up-tight? Let me quickly dilute this comment by saying this is a critique I'd levy at most gourmet dining rooms. I know it's fine-dining and I understand that a Michelin starred chef is the modern day equivalent of Jesus (who in turn I suppose was the Heston Blumenthal of his time. Seriously – that water and wine trick…) So hushed reverence is ordinarily our response in kind. Trouble is, I've never felt particularly comfortable maintaining those polite nods and just audible whispers. You see, I'm very easily excited by good food and (in particular) fine wines (if your mind has now wandered to that scene in When Harry Met Sally – stop). The problem here of course isn't with the restaurant, it's with us. We're too darn easily impressed. Readers: it's your money, your tasting menu. Please, crack a joke or two with the sommelier (as I frequently do). They'll be grateful for the respite, and ironically, you'll become all the more cooler by doing so ('Yeah – we know each other – I hang out here all the time'…)
Second, and I'm going to v-e-r-y carefully word this. Gidleigh Park is known for promoting British produce. Its menus offer carefully cultivated modern-day versions of British classics. The surroundings (and building itself) are stunning – no question. It's a sort of 'best of British' landscape in the most breath-taking countryside. So may I pose a somewhat rhetorical question to the team at Gidleigh Park: isn't it a shame that you don't invest more in British front-of-house talent? Where are they all?! The service during my visit, don't get me wrong, was exemplary. Perfect and attentive and everything you'd expect. And I know that this is what the French, in my experience, do particularly well (ditto pretty much every other European nation besides us). But wouldn't it therefore be a great idea to draw in some of our – currently unemployed – hospitality graduates and brutishly train them up so places like Gidleigh Park really can offer a 360 degree 'best of British' experience – and no, I'm certainly not talking here about wholly white middle class Oxbridge types. I guess we outsource from Europe so much because despite the fact that yes, Brits can (now) cook – hoorah! – we still fall flat on our arses when it comes to service.
Both of the above just food for thought really. On to the food itself. Well… it was sublime; it was packed with beautifully juxtaposed flavours; it was seasonal; it was plated up like works of art. The wine was terrific – though pricey, even by Michelin standards – and I can still conjure up elements of that cheese board. Not that I'm being lazy but occasionally a food reviewer's worn-out superlatives don't do the trick. You've just got to experience it for yourself. And, despite what I said earlier: go – you really will love it.
Saving the best 'til last though and Mr Caines himself was in residence (woohoo, jackpot!) and happily chatted with us for over an hour (!!!) He is honestly one of the most passionate and informed and yet down-to-earth, up for a laugh chefs I have ever met (and I'm not just saying that because we're now friends on Facebook). A classic case of 'local boy done good' -and not always in the easiest of circumstances as we all know. And the icing on the Hazelnut and Milk Chocolate Parfait, he too loves old-skool Prince. The conversation just got better…
So yes, in my opinion Gidleigh Park deserves all its accolade and acclaim. A couple of quick tips: go for the two course seasonal lunch menu, just shy of forty quid – and then splash out a little on some of that wine (it is good). And if you do happen to bump into Michael, remind him that I Wanna Be Your Lover really is the greatest all-time example of crossover pop-funk. Now maybe that, piped through the speakers, would lighten the atmosphere slightly… Just a thought.