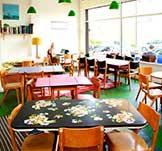 Like its name, the Hackney Pearl is a welcome jewel hidden in the damp folds of canalside Hackney. The café bar blazes with warmth in an industrial landscape slowly being pollinated by Dalston's hipsters from down the road.
Oh I was sceptical. Hackney Wick, PLEASE no more full beards on pubescent-faced home county boys who don't suit them. No more vintage paraphernalia. But on the Saturday night we visited, we saw not one beard, and a pleasant range of ages – from locals bringing their parents for dinner to earnest young men no doubt discussing poetry (or something).
"Lots of locals come here," says the very hospitable deputy manager David, "but now, because of the rise of Hackney Wick, and the events here [the Olympic Park is over the canal], more people are discovering it".
We only discovered it ourselves when escaping mobs of lost souls in Fifties garb looking for the Secret Cinema showing Back to the Future. It's that kinda place.
Once in, the atmosphere is buzzing and happy and less pretentious than you might expect for somewhere around here – there's an aggressive megawarehouse bar around the corner which is less pleasant. It's cosy in a relief for an oasis way; it's also utilitarian/vintage with its mismatched school chairs and bare walls… green pendant lamps, 50s formica tables and knackered studio floor. Some great music sounded our night – mainly old Motown, Stevie Wonder, Jackson Five.
The food is simple, nothing too processed or fancy – but done well to a daily changing menu. Think traditional English licked by the Mediterranean – it won't challenge you but it will satisfy. There's also a bar with mainly Greenwich Meantime beers.
You can choose between a handful of small plates, middle plates (we're talking sizes here) and mains with a decent and well-priced wine list. They also source some of their veg from an urban farm rooftop on the Olympic site – where else?
We tried the charcuterie to start – a pile of meats is not hard to achieve but we salute their excellent homemade pork & pigeon terrine, much firmer and meatier than we expected. The grilled aubergine was a hearty pile of aubergine slices with the kind of green leaves that come from a pillow bag, but the pepper sauce it sat in was lovely and delicate.
For mains, Barnsley lamb chops were cooked well on a wonderful bed of juicy umami pearl barley. My roast sea bream with provencal vegetables and basil oil sounded uneventful but again, was a generous size and wholesomely cooked – nothing to fault, strong fish, some oreganoed yellow courgette bedding, more aubergine (I wouldn't have got my starter if I'd have known). 
We were having this with a good, complex Decenio rioja crianza from 1997 – surprised to find a wine of this vintage at this poppy café. Pudding was less of a success. My bread and butter pudding was made from croissants and was big and dense – which would have been fine with a looser icecream. But served as it was with a dry brownie ice cream meant we were struggling with a lack of mouth lubrication, uh huh.
It didn't crowd out later but petered out gently, with gusto on the poets' lips. Watch out for the lack of buses back to habitation; we nearly missed our one and only 30 and it's not the nicest area to be stuck in. But though it's a schlep to get here – unless you live in one of the nearby artist warehouses – the Hackney Pearl is worth diving the murky canals for.