150 Old Park Lane, London W1K 1QZ www.hardrock.com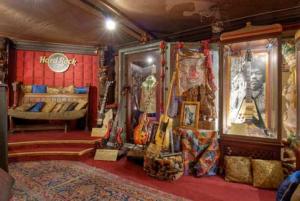 If only I could get into my loft – piled high from the entrance to the back – to dig out diaries from my late teens and early 20s. Did I first go to the Hard Rock Café between school and travelling or after I got back from my not quite two year north American trip? When it first opened, at the posh end of Piccadilly, it was where we all wanted to be. And we often were, in queue after queue – in rain and snow as well as on balmy summer nights – as much for the thick, juicy burgers as for the rock and roll buzz. Back in the mid 70s this was as cool as it was possible to be.
There wasn't much of a queue early evening on an icy Monday when I went back for the first time in … could it be as many as 30 years? Ahead of us was a family of four Americans; behind us – yes, a family of four Americans. A few inches behind them, cameras flashed as would-be diners captured the world famous logo on the awning in a been-there-done-that kind of way. With a worldwide reputation, and over 160 cafés (2011 openings include Hanoi, Hong Kong and Sydney), about three quarters of its customers are tourists – many coming to experience the unique features of the original café; others falling back on its reliable familiarity.
And familiar it was. Sensitive refurbs mean that its layout remains broadly unchanged though, as is typical of early memories, it seemed smaller, more intimate, than I remembered (there's far more space downstairs). It still has booths against its large, picture windows (it's in a former Rolls Royce showroom) which, with its bar-room atmosphere (light playing on glass and mirror, loud music, television screens showing excerpts of rock concerts), took me right back to my first visit.
Its business ethos remains the same, too. 'Love all. Serve all." proclaims a large sign above the pass. It opened as London's first classless restaurant, deliberately crossing social barriers to appeal as much to bakers as to bankers. It soon became a draw for rock stars – and for hanging out with rock stars – but when Eric Clapton sought preferential treatment he was sent to the back of the queue.
And that's how the Hard Rock's massive rock memorabilia collection started. Clapton came back, a few days later, with a guitar to be displayed where he liked to sit at the bar. Not wanting to be outdone, Pete Townshend sent one of his guitars proclaiming 'mine's as good as his". Now, whichever Hard Rock you visit, part of the experience is to look in awe at the history of rock on the walls. In London, an added treat is to join a tour of the vault in the Rock Shop next door (in a former branch of Coutts bank) to see the most valuable pieces in the collection: an eclectic mix that includes one of Madonna's bustiers and a pair of John Lennon's glasses. Browsing through Hard Rock merchandise and visiting the vault means no-one needs to wait in line for a table though, for me, that's part of the point.
So, what of the food? Think all-American retro. Enormous burgers? Check. Vast ribs? Check. Slathered-on hickory-smoked Bar-B-Que sauce? Check. New York strip steak? Check. A Tex-Mex influence? Check. Caesar salad? Check. Key lime pie? Whatever you'd imagine, it's on the menu – or so it seemed to us. And there's no option to 'go large"; it already is. There's no option to go small, either. We would have liked to share a starter portion of ribs (to get the cliché out of the way) but it's not on the menu. So we settled for the Jumbo Combo selection despite being warned that we wouldn't then be able to finish our 10oz SOB burger (with chipotle sauce, Jack cheese and guacamole) and full rack of ribs. We attempted … but failed, foiled by finding so much fall-off-the-bone pork on the ribs though, after a pause, we found a little room to test the chocolate peanut butter pie (gloriously salty-sweetly-rich). Prices are high (£14.95 a burger) but you're not just forking out for top quality ingredients. You're paying for the view. Mine took in the money suit worn by Pete Townsend in Tommy and the Spitting Image puppet of Mick Jagger.
If those names mean nothing to you, they rang loud bells with Domenico Falco (aged 26) and Antonio Brunetti (19 years old) of the Italian band Entropea who paused beside our table to photograph the artefacts on the walls beyond. Over here from Salerno, to record an album in Tetbury, they had diverted to the Hard Rock to see the legend. 'Amazing! Fantastic!", they both said. They hadn't eaten here, or drunk at the bar: as struggling musicians, they couldn't afford it. For them, feasting on the artefacts and soaking up the sound was plenty. The management team at this, the original and best (it's not even arguable) Hard Rock, takes a relaxed view of this sort of rubbernecking; it's invariably done with maximum respect.
What earned the greatest respect from us, beyond the staggering rock collection, was the friendliness and warmth of the staff. 'It's refreshing to see a happy, contented workforce," said Mark, who had agreed to join me on a we-share-everything basis. From the woman managing arrivals in the freezing cold; to the newest member of staff (our waiter, Sayeed, joined five months ago); to Jeremy, the manager, whose career with the Hard Rock brand began when he was 19 in 1995 in Melbourne; to the waitresses (here, but not around the world, they wear the same white uniform as was worn on day one), it was clear that theirs were more than jobs. Many staff stay for years; two have worked here since opening day (14th June 1971) including 70 year old Delia who still waits on tables. If supporting a business because of its outstanding employment policies (and a respected philanthropic approach) is part of your dining rationale, and you want an indulgent American foodie blowout, you'd eat here more frequently than every 30 years.