Hardy's Brasserie and Wine Bar, 53 Dorset Street, London W1U 7NH Tel: 020 7935 5929
Occupying the corner plot of Dorset Street and Manchester Street in Marylebone, Hardy's is an establishment that boasts some character: there is external seating, and you enter through the main bar area which is both substantial and well set out.There are more formal dining rooms off the bar area, and we chose to sit in the smaller of the two we saw. We were given our menus and told that Hardy's ethos was to source fresh, seasonal goods bringing these together in the dishes offered on it. As a consequence of this we understand that, other than a few staples dishes that are customer favourites, the menu is updated and changed regularly dependant on what might be available and in season at the time. A fairly brave but commendable strategy, we thought.
For starters we chose the Hardy's fishcake and the devilled veal kidneys on toast. The fishcake was a good size, packed with flavour although there were no discernable lumps of fish in the cake, it had a nice smoky edge to it, served on a bed of wilted spinach, and with a poached egg and hollandaise sauce atop, it made a good dish. The Kidneys were well cooked, and having been left with some pinkness, they had a nice texture, the sauce, although not heavy, had a richness to it and some nice heat that went well with the kidneys, served on two slices of toasted ciabatta, which came in handy when mopping up the remaining sauce.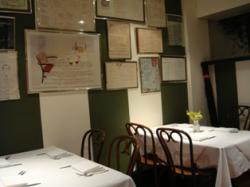 The beer battered cod is one of the brasserie's staple dishes so an obvious mains choice. It was nicely chunky piece of fish, the batter thin and crispy; served with good chunky chips and lightly minty fresh pea puree, it was a very good dish. The pan fried scallops, with boudin noir and caramelised apple looked appetising, with some five or six good sized scallops scattered over the black pudding, with slices of the cooked cox apple. To my taste, I didn't feel that the apple paired well with the scallop, but separately each constituent part was good, the scallops cooked perfectly. The apples had a sweetness and a bit of tang to them, and the black pudding was rich and deep in flavour.
Desserts of mixed berry clafoutis and hot chocolate fondant finished the meal off. The clafoutis, had a mix of fresh flavoured tangy red berries cooked in the batter, a great way to bring the meal to a close. The fondant had good bitter chocolate flavour to it, and whilst it didn't ooze when cut into, it did have a gooey centre, and a light, but good flavoured cinnamon ice cream contrasted well with it.
As you might imagine, Hardys has a substantial wine list, with a good number served by the glass and half-litre carafe. We had the house white, a Columbard, which had a nice fruity crispness to it and at about £9 for a half litre we thought was reasonably priced. Service was good and attentive throughout the meal. Hardy's does not open at weekends, but is open for lunch and dinner on week days. It is a wine bar/brasserie with character and some good dishes on offer.