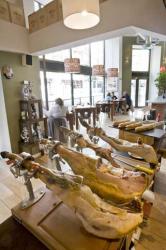 Did I expect a classic 70's Tapas bar? All dark wood, pictures of Barcelona and possibly even some taped flamenco music? Or perhaps one of the new style Soho tapas places, so trendy and cutting edge that you can't reserve anything and have to join a queue to get fed?
Whatever, I walked right past Iberica, not thinking the sparkling glass walled place on the corner could be a Spanish restaurant and had to retrace my steps after standing for a bit looking puzzled. Inside was a bit of a surprise too, a long L shaped white marble topped bar, small tables dotted around and in the back a cracking selection of Spanish products in the delicatessen El Colmado. Not yer average Spanish place at all.
They serve over forty hot and cold 'tapas' down here from lunchtime until closing time, which is Latinly late. Fantastic charcuterie, including the Iberica hams, as well as all the expected classics are available, all freshly cooked or sliced or decanted.
Michelin-starred Executive Chef, Nacho Manzano from Asturias is in overall charge of this bar/ restaurant and also of Caleya, the more formal upstairs place. Day to day cooking is under the control of Santiago Guerrero who has worked with the Roux brothers at the Waterside Inn in Bray, as well as having been Head Chef at the London restaurant L'Albufera. His career and training has also seen him work at some of Spain's top Michelin restaurants including El Celler de Can Roca in Girona and Hacienda Benazuza in Seville. All big names in the restaurant world, not just in Spain.
Today I'm trying the Expressions menu at £16 – a mini "desgustacion" menu of pinchos that is served only between 12-3 pm Monday-Saturday, and which highlights Santiago's cutting edge approach to tapas Served at the bar, it's made up of eight hot and cold pinchos smartly presented on a piece of slate within 10-15 minutes of being ordered. The menu is served with a glass of ice cold Tio Pepe, which suits me fine.
The "Expressions" menu aims to follow the seasons but here in September it's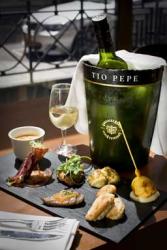 "Copita" of Tio Pepe Fino Sherry
Cherry Gazpacho with arbequina olive oil
Air cured beef cecina ham with almond vinaigrette
Fresh Cured Anchovies with peppers and onion 'pipirana'
Pan fried monkfish 'Pixin'
Iberica ham croquettes
Chorizo lollypop
Artichoke with pear aioli
Grilled Iberica Pork loin 'Presa' with mojo rojo
Sounds a lot, but actually quite a small slate full when it turns up. It is however well balnced so that you walk away nicely sated and not blown out. The dishes themselves are very good indeed; the cherry gazpacho (standard tomato gazpacho, but with added cherry puree) is packed with flavour, the grassy, spicy olive oil drizzled through it a perfect foil to the tomato's gentle acidity. The Ham croquettes are creamy and delicious, so more-ish I could happily eat a plateful, and I could of course because all the dishes are available in larger quantities from the main menu.
The air-dried cecina ham warrants the cliché 'melt in your mouth', in fact it almost melts in the air. The monkfish is firm without being overcooked and like the perfectly grilled Iberica Pork loin needs very little to accompany it, the lemon was almost superfluous and needed to be squeezed with care.
I love anchovies; whether in jars as they sell in the deli; in salt where you need to rip out the backbone like unzipping a jumper; or simply cured as here, the flesh sweet and plump. The Chorizo lollipop I left till last having a passion for Chorizo, which borders on the obscene. Here it had been wrapped in a batter made from Garbanzos, or chickpea, flour which, to be honest, wasn't such a great idea. It ended up like a mini Scotch egg and the casing was stodgy. I can see why they did it, any other kind of casing would not have been up to the job structurally, but I don't think it's an idea worth any more effort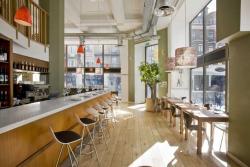 Co owner Marcos Fernandez who looks every bit the Spanish grandee, but who speaks with a beautiful upper class English accent 'I went to Downside school' he tells me, wanders about chatting to regulars and firing bursts of Spanish at his staff who are all business and scurry, which is just as it should be. Another co-owner, Javier Fernandez Hidalgo, is also about, a man with a thick Spanish accent who came to England many years ago with a suitcase of Spanish garlic to sell. 'No one had heard of it back then, 'he laughs. 'I still smell of the stuff!' He doesn't, of course.
Iberica has a passion for provenance, Marcos talks of investigating farmers in England prepared to raise the exact kind of chickens he wants in the restaurant. 'The suppliers we use in Spain have wonderful produce,' he says, 'but logistically for such small concerns, getting stuff to us regularly is hard for them and they have plenty of local customers anyway so they don't need the hassle.'
With a modern take on tapas, fine style surroundings and a real focus on perfection and innovation, Iberica downstairs is the sort of bar that attracts regulars. The Expressions menu is a good value way of getting into the cooking here and I'll be back to try October's for sure.