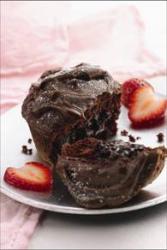 A veritable volcano of oozing chocolate excitement – great for parties and a brilliant way to use Betty's Devil's Food Cake Mix.
Ingredients:
500g box Betty Crocker Devils Food Cake Mix
100ml whipping cream
100g/3½oz dark plain chocolate
70ml vegetable oil
3 medium eggs
450g Betty Crocker Rich and Creamy Chocolate Fudge Icing
Icing sugar
Method
1. Put the cream into a small pan, and heat gently to simmering point. Remove from the heat and break the chocolate into the pan. When the chocolate has melted, stir until smooth. Cool then refrigerate about 1 hour, stirring occasionally until the mixture is thick.
2. Heat the oven 180C/160Cfan/350F/gas 4. Place muffin paper cases into 1 or two muffin tins. In a large bowl beat the cake mix with the oil, eggs and 250ml water on low speed for 30 seconds, then on medium speed for 2 minutes.
3. Spoon the cake mixture into the paper cases to fill by 2/3rds. Add a rounded teaspoon of the cold chocolate mixture to the middle of each cupcake.
4. Bake 15-20 minutes or until the top springs back when lightly touched. Cool 2 minutes before transferring to a rack to cool. Spread with frosting and just before serving, dust with a little icing sugar.
TIP
Serve with a few halved strawberries if liked. If you only have one 12 hole muffin tin, cover and refrigerate the rest of the cake mix while baking the first batch.