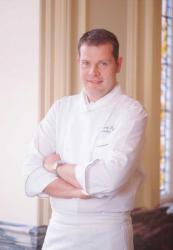 On 2 October 2009, Gary Klaner, Executive Chef at the five-star Landmark London, will be one of several top London chefs cooking a five-course feast at London's Guildhall to raise money for troops wounded in Afghanistan and Iraq.
The 'Chefs for Heroes" gala dinner is being spearheaded by The Lanesborough's chef de cuisine, Paul Gayler, and dished up by an army of chefs from the UK's top restaurants including Gary Klaner (The Landmark London), Martyn Nail (Claridge's), Andrew Bennett (Sheraton Park Lane), Paul Bates (Intercontinental, Hyde Park Corner), Simon Young (The Jumeirah Carlton Tower, Knightsbridge) and Matthew Marshall (Chamberlain's Events). Having cooked for Royalty and pop icons such as Madonna, Mariah Carey and the late Michael Jackson, Paul's team will be serving a sumptuous menu to London's glitterati in a bid to raise £300,000 for Help for Heroes, a charity Paul felt compelled to help after his son, Lee, was shot in the leg whilst serving with the Territorial Army in Afghanistan.
Celebrity Host Chefs at the event include Brian Turner, who will act as Compere on the night, Ainsley Harriett, Gary Rhodes, Angela Hartnett, Anton Mossimann, Antonio Carluccio, and Gregg Wallace.
Tickets cost from £500 and can be booked at www.chefsforheroes.org
Champagne reception and 'creative' canapés
The chefs will use live cook stations to create stunning canapés in front of guests.
The Menu
The sumptuous gourmet menu has been created by the chefs and will be cooked by them in the Guildhall. Gary Klaner will cook the main course of Roasted Fillet of Scotch beef, Oxtail Boulanger, and Sauce Hermitage.
The menu also includes:
Terrine of smoked maize fed chicken and wild mushrooms
Baked Orkney scallop with leeks, ginger and coriander
Iced soufflé 'Eau de Vie Dantzig', warm Mirabelle compote
Cheese Platter
Coffee & Friandises