Balham became one of the trendier areas to live in South London some few years back. This is reflected in the wide range of shops restaurants and gastro-pubs that have developed over time to make up its long, eclectic High Street.
Among the array of eateries in Balham, just off the High Street is Harrison's, which can best be described as a bar/brasserie/restaurant. As you approach from the High Street, you are struck by Harrison's clean sharp lines, it looks every bit a cool place to eat – and drink for that matter. You enter and the place is much larger than you imagine it will be. The hub is the central area split half and half between open kitchen and bar. There are three distinct zones to Harrison's, the bar, which has a warm friendly atmosphere, the area immediately near the kitchen that has a brasserie/bistro, kind of minimalist feel to it and further back a more formal, but still very relaxed restaurant/dining space. Harrison's also has the Alter Ego Bar in their basement and a further discrete space elevated from the main bar/dining areas that can be divided off for private functions. The whole thing comes together really well.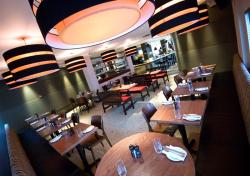 We sat at a table in the more formal dining area and as we chose our courses we each nursed a nicely chilled big, zingy Sauvignon Blanc from Marlborough, New Zealand. For starters we decided on the sharing board which we understand can vary in its content. Ours contained two good sized shot glass of a great fresh tasting roast tomato and red pepper soup with pesto, a tranche of very good chicken liver parfait that was light but had great flavour and was accompanied with pear chutney that had both sweet fruitiness and tang and the crispest, thin slices of toasted sourdough bread. There were also thin slices of a good full flavoured cured ham that had been rolled together roughly and some good buffalo mozzarella with pesto. It was like an incredibly tasty ploughman's lunch made up of elements from the main menu. This board is a must if you want what is in effect a tasting plate of about half of Harrison's starter menu, it's a little rustic but is packed with flavours.
We moved on to mains having chosen the lamb and the beer battered haddock. The haddock was a sizeable portion of fish, its soft delicate white flesh encased in the great crispy beer batter, this was served with some excellent chips, a dish of good chunky tartare sauce and a lovely fresh tasting pea puree that had clearly been made from sweet petit pois. The lamb was served pink, or at least the sliced rump was, and was nicely tender with good flavour. It was accompanied by some confit lamb breast which had a good richness to it. Completing the dish was a nicely cooked fondant potato and some just al dente swiss chard and spinach, these elements brought together well with a good jus. These were two very good, tasty plates of food.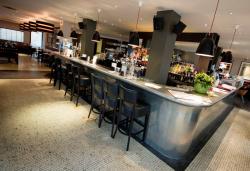 As you might imagine, after these two hearty courses, we were quite full but we looked at the dessert menu, well, you have to, don't you. I was drawn to the treacle tart with clotted cream. It's years since I've had treacle tart and it doesn't often feature on dessert menus. We decided to share it, but I have to admit to eating most of it. It was very good and although rather sweet, was balanced well by the cream, it was a comforting end to the meal and took me back to childhood teas many years ago.
With our main course we chose a bottle of the house red, Le Pionnier Grenache/Merlot which went well with the lamb and didn't overpower the fish at all. Wines at Harrison's range upwards from £15 a bottle and from £4.25 a glass, it's also possible to buy them by the 500ml carafe. Service was very good indeed, they know their stuff, were helpful and friendly. Harrison's is a great local restaurant, it was very popular the evening we were there; they give excellent value for money and absolutely deserve to do well, serving very good food in a great atmosphere that compliments the trendiness of the area.