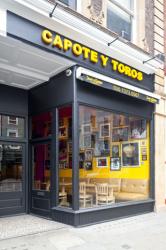 Though some may balk at the idea of the worlds most extensive sherry list – too many memories of tipsy grandparents – the carefully compiled cellar at Capote y Toros is sure to banish those prejudices. The latest venture from the man behind Cambio de Tercio, one of London's most acclaimed Spanish Eateries, Capote y Toros will be bringing a slice of downtown Cadiz to West London's heart. Opening on Friday 8 April, it will be a more relaxed affair then its sister up the road, with the focus being on Tapas and an astounding array of sherry.
Expert Peter Dauthieu has been brought on board to ensure the sherry selection is a far cry from the syrupy excuse poured out by those of the older generation. Instead, introduce your taste buds to dry Finos, Manzanillas and sweet Pedro Ximénez, whilst tucking into some of the best Iberico pork charcuterie and Andalucian-inspired tapas. Die-hard wine fans won't be disappointed either, with over 400 bottles to choose from, there is sure to be something for even the pickiest of drinkers.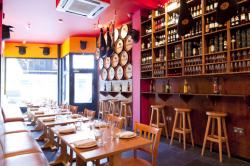 Celebrated Spanish chef Alberto Criado has created an exciting tapas menu encompassing old favourites such as Ajo Blanco and Gambas, and innovative specials. Using fresh, seasonal products sourced from some of Spain's most celebrated producers the menu is the perfect way to sample an eclectic array of edibles. With British Summer Time just round the corner what better way to celebrate?
Capote y Toros will be opening its doors at 157 Old Brompton Road on Friday 8 April.