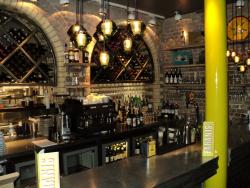 I knew that we were going to a cocktail masterclass, but what I didn't know was that the evening would be devoted to those archetypal French drinks, pastis and absinthe. Absinthe has had a bad press; France banned it in 1915 (under military orders, no less) and it remained so for many years. In the meantime, some 15 years after the ban, pastis emerged to fill the gap that the ban had created. Eighty years on, absinthe is back, but very much a niche product. Meanwhile, pastis is phenomenally popular, not just in Provence, but throughout France, where 130 million litres are sold every year, fact fans.
Our destination was Baranis, a new bar, smartly tricked out with a Provençal theme. It's a relaxed space, with plenty of memorabilia, artfully mismatched furniture, and some cosy-looking booths, plus an indoor pétanque court. Whether absinthe and pétanque is a sensible combination is moot, but it could be fun finding out.
Getting things underway, we tried the spirits on their own. First up was probably the best known, Pernod; this gave me a flashback to a colleague from many years ago whose tipple of choice was Pernod and blackcurrant. I only ever smelled it, but that was more than enough, and even 20 years later, the memory gives me a little dry heave. I know, way too much information, but you get where I'm coming from… this was not something that I was looking forward to. But on its own, the Pernod was rather nice, with strong aniseed coming through, but tempered with a sweetness, and mellowness in its finish. It didn't win me over completely, but it was certainly far nicer than I had recalled.
Next was another pastis; Henri Bardouin is less well known in the UK, but I really liked it. Along with the expected aniseed was a subtle herby quality which worked really well, and although it's intended to be diluted, I enjoyed sipping it neat. Third up was the most familiar to me, Ricard. A and I have enjoyed it many times as an aperitif, served long over ice (though Provençals would consider that sacrilegious), but after the Henri Bardouin, it felt a little one-dimensional and was certainly less interesting. I would have Ricard again, but definitely as an aperitif, rather than as a drink to move onto.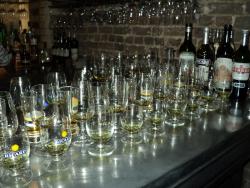 Last and by no means least, we tried a sample of Absente absinthe. Neat, it was surprisingly thick, with a syrupy quality that coated the glass. It didn't taste as strong as I was expecting; it had a distinct aniseed flavour, but the alcohol felt quite mellow – though at 69% by volume it was most definitely there, as my tingling lips testified.
Having tried the four spirits, it was time to experience their versatility, courtesy of our charming bartender (whose name I can't now remember, but I blame the absinthe). Kicking off with a peach anise Collins, featuring peach schnapps, gin, Henri Bardouin pastis and lemon, topped with soda. This was a refreshing drink, the sweetness of the peach being nicely balanced with the pastis. Next was Baranis' signature cocktail, la Pagnol; vodka, pastis, elderflower liqueur, lychee and a splash of cranberry juice. This was lovely, slightly sweeter from the lychee, it was startlingly pink and a bit girly – not a bad thing by any means. But for me, the best came last, in the form of the azure breeze; this was a martini of gin, Grand Marnier, lemon and a little dry vermouth, shaken and poured into an absinthe-rinsed glass. It was smooth, mellow and absolutely delicious.
We had some nibbles as we went along, starting with lightly salted pancakes, which were light and very moreish. These were followed by some tasty little pastry parcels of spinach and onion, and finally some thin flat bread topped with aubergine puree, anchovy fillet and black olive. The food didn't set me alight, but the drinks were the stars of the show, and rightly so. It was interesting to see them in a new light, one which demonstrated their versatility, and will hopefully boost their popularity.
Baranis, 115 Chancery Lane, London WC2 www.baranis.co.uk