The Bolingbroke, 174 Northcote Road, London SW11 www.thebolingbroke.com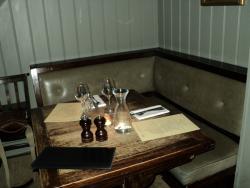 What's in a name? Well, having struggled through Shakespeare's Henry IV Part I as a callow youth, the name Bolingbroke stirs some very unwelcome memories. But the latest Bolingbroke to come into my life was the Bolingbroke pub and dining room, part of the Renaissance chain, which has provided us with some welcome memories of late. Situated in that little bit of Wandsworth between the twin greenery of Wandsworth and Clapham commons, there's no doubting that this is a smart part of town; substantial Victorian properties and 4x4s abound as I amble from Clapham South station to rendezvous with A.
Named after a legendary politician and rake, the Bolingbroke feels very much part of its environs; large fronted and smartly decorated, it spreads a warm glow on a frankly nippy evening. Inside, all is well; the front of the building is given over to the pub, and is comfortably kitted out with artfully worn tables and comfortable looking chairs. The dining room is to the rear, and is rather more formal, tricked out in a slightly dazzling white décor, but given warmth by the wooden floor and muted browns of the furniture.
We took a table in the pub, but in a rather cute alcove which I can't help but imagine has seen a fair amount of canoodling over the years. With hindsight, we should have sat in the dining room, but more of that later. We settled down with the menu and a glass of chenin blanc each; this was nice, but wasn't particularly well chilled, and as a result was a little cloying for my tastes. I didn't finish my glass, but A stepped up and helped me out. How kind. The menu at the Bolingbroke is reassuringly concise; I dislike being presented with a huge choice of dishes, as it always brings out the ditherer in me. The menu is supplemented by daily specials; in this case, one each of soup, starter, main and dessert.
For our starters, we went for one of the specials, the scallops parsnip puree and crispy Parma ham. The scallops were tremendous, plump and pearly, they had been cooked perfectly, and the parsnip puree paired with them well. The Parma ham had good flavour, but was far from crispy – it had a kind of leathery texture indicating that it hadn't been cooked long enough. It took the edge off what was otherwise an excellent dish. From the regular menu, I had the organic prawn and chive tortelloni with purple heirloom carrots and prawn oil, which was a good dish; two good sized tortelloni, each with a tasty prawn filling, while the carrots gave a nice sweetness to the dish. It was good, solid cooking.
On to mains, and we went with the regular Bolingbroke menu. A had the glazed duck breast with dauphinoise potato and courgette provençal. The duck was tender and had good flavour, but it was served medium, a little overcooked for A's liking. The accompanying potato and courgette were good, while a side of garlic buttered cavolo nero and kale was neatly served in a small saucepan, and had nice texture and flavour. I went for the burger with chips and onion chutney, adding cheddar and bacon. Our server recommended medium, which I went for, and it was a good suggestion; the meat was good quality, and served just pink, it was tender and juicy. The chips were good, and I particularly enjoyed the onion chutney, which had a lovely tang to it. To go with our mains, we had a Chilean cabernet sauvignon, which had good flavour and was nicely jammy.
At this point, we could happily have stopped eating and headed home, but duty called in the shape of the dessert menu, and we answered. A was drawn to the chocolate fondant, albeit with reservations, having had a number of fondant-related disappointments, but it was a good choice. The fondant had a good chocolate flavour, and most importantly, a melting centre which oozed chocolate sauce, and went well with the accompanying whiskey and honey ice cream. I opted for the rhubarb and apple crumble which was lovely, with far more fruit than crumble, which is as it should be, and served with a cute little jug of good custard on the side. The fruit was nicely sharp, and the whole thing came together very well.
As the evening got into full swing, the pub part of the Bolingbroke got very busy, and while our little nook was undoubtedly cute (and possibly romantic for those of you given to these things), the room was very noisy, not helped by our being close to a table of eight – a rather loud table of eight, at that. And I didn't have an issue with the group; this is a pub, not a library, but really, we perhaps should have been given the option of eating in the dining room, though we could have asked. But do bear it in mind if you are looking for a romantic dinner for two, rather than an evening of conversation in raised voices.
Regular readers will know that we are fans of the Renaissance chain (we had a super evening at the Tommyfield a few weeks ago), so I was disappointed to have come away feeling rather ambivalent about the Bolingbroke. But mis-steps aside, from what we saw, there is enough good stuff to make it worth a visit if it's in your neck of the woods.