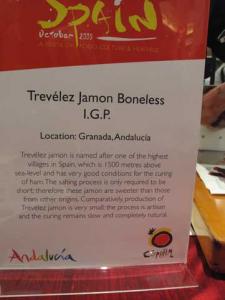 Some people are seduced by Selfridges, others bang on about Borough Market, but for me there is only the corner shop in Knightsbridge when it comes to food heaven on earth.
Now I know it's a bit expensive, that's why I tend to be a window shopper, but let's face it Borough Market is mostly a pricey open air deli for bored yummy mummies. At least in Harrods you don't have to fight to get served or queue for ages to buy from a stallholder with dreadlocks who thinks he's doing you a favour by selling you an overpriced loaf of bread.
I have been strolling the Food Hall aisles since I was knee high to a frog's leg and I still like it, although I do it post-lunch if I am not to be stricken with terrible munchies. Right now there's another reason to push your way there past women trying to spray you with Eau de Butch or Un Homme Nomme Slater and that's a special dedication to the foods of Spain.
Now we all know that El Bulli is the World's Number One Restaurant – a fatuous concept unless the judges have eaten in every restaurant in the world – and that the French are biting through their table napkins in annoyance. The Spanish have arrived with a bang on the restaurant scene from being a bit of a joke to being cutting edge. There are now many superb restaurants in Spain, some of which you can still book a table atwithout having to buy a 2020 diary. To celebrate this Harrods Food Halls have got together with the Spanish Tourist Board to showcase four regions of Spain – Valencia, Andalucia, Madrid and the Balearics.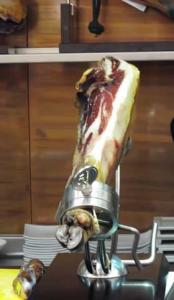 Down in the Food Halls is a range of exclusive and unusual Spanish produce – including Peque Oliva (olive oil for children) and Horchata (Tigernut milk). There are plenty of regional tastings – including gourmet versions of tapas and locally-produced olive oil from Madrid – there is also be an expert Spanish sherry pourer and a traditional ham 'Cortador' from Andalucia, both showcasing their talent and offering samples. The man carving the ham and giving away slices may not have noticed that I came around more than once, or perhaps he was too nice to mention it. Delicious, I do so love jamon.
You can browse about happily but the more fun is upstairs in The Georgian Restaurant. In Harrods, not yet being under Eastern European ownership, the Georgian refers of course to King George and it's an appropriately over-sized space.
Valencia, Andalucía, Madrid and the Balearics, are all featuring their unique take on gourmet Spanish food, but when we went it was the turn of Andulacia and Chef Manuel de Pablo Deco Restaurante La Almazara de Carmona
A carpaccio of octopus and smoked paprika in a squid ink dressing and a salad of olive oil foam was prettily done, the squid so thinly sliced I mistook it for radish. The subtlety of the blended flavours and the delicate kick of the paprika was well judged, as was the light dusting of rock salt.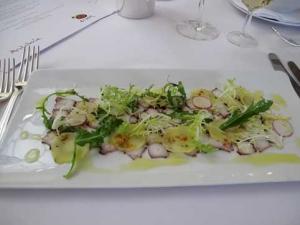 We thought the salad of marinated grapes, caramelelised pine nuts and rocket with Ajoblanco Ice cream would be a salad with a scoop of ice cream on the side. Wrong. Instead it was a form of soup. Intense flavours with sweet balancing savoury and something else beside that – Umami, the Japanese word which sort of translates as 'tasty'. I only had a spoon to try but it was fascinating. I doubt I could have eaten the whole lot though.
What I did eat completely and then scraped the plate, was a pan fried medallion of Iberico pork with Migas. These Migas are a form of large bread crumb soaked overnight in water and garlic and fried off. In Andalucia they are often served with hearty dishes of tripe and offal. Quite delicious, especially, as here, they were soaking up the pork juice, the chorizo oil and a poached egg on top. The slow cooked pork was excellent and its fat crispy.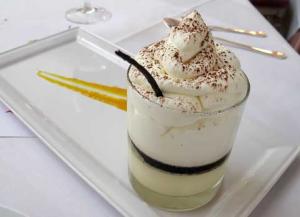 Dessert again was unusual and interesting, a baked custard with expresso jelly and and spiced yoghurt foam. I'm not much for desserts, but this was worth it.
Worth a mention too was some superb bread, studded with juicy olives, which the charming maitre d' noticed I was scoffing fast and cheerfully replenished. He also kept my glass of chilled dry sherry topped up too, excellent old skool service.
Three courses here are £29.50, which isn't the cheapest lunch in London but it's an experience that won't be available for long and it is in Harrods, after all! How many corner shops offer you that?
Find out more about the 4 'foodie' regions by going online: