54 Stanley St, Liverpool, Merseyside L1 6AU hoaxliverpool.com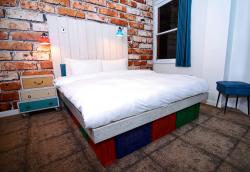 HOAX is a hostel, well, bit more than a hostel to be fair. I've stayed in hostels before but this is a cut above the rest. The rooms are pretty big and vary in terms of what you're looking for – a single bunk, a room with mates or even some traditional hotel-style rooms. The bathrooms and shower rooms even have doors, not a room-dividing-curtain to be seen – proper hostel lovers will know what I'm on about, or if you go to Newquay a lot.
Positioned smack bang in the heart of Liverpool on Stanley Street is a really convenient location. My brain tries to do the maths and work out how such a prime location can be supported through hostel prices, but after a few seconds it would much rather be doused in gin. Besides, it's Liverpool, and the vibe I get is to just enjoy yourself and stop being so corporate. Lesson taken, bring me gin.
I'm not sure if the rest of the press trip were up for a day of drinking and walking. To be honest, if they wanted to do something different they could happily do it, but somehow the site-seeing tour became a much more fun quirky bar-crawl. We didn't get super smashed or miss appointments, but there's only so much Beatles' stuff a person can take. Besides, a HOAX visitor is likely to be into the creative world and not so much into the mainstream.
Why? Well wait until you see the bright vibrant quirkiness of the hostel. There's a retro arcade machine in the lobby. Cool. It's got its very own street kitchen called Hopskotch. Cool. The staff are up for a drink after work if you're game. Cool. To be fair, I'm not being a kiss-ass, but the whole experience in HOAX was cool. At least I think it's cool. I'm still stuck on what the word means. I had a friend over the other night who told me I was cool, but I'm no hipster. I guess, if you boil it down to the very core, to be cool you'd have to get along with everyone, right? That way, everyone would say you're cool? So – I guess in the same respect, HOAX is cool, because I can't imagine a type of person that wouldn't like to stay here. So, it's cool, right?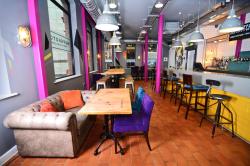 While you try and figure out what the heck I'm banging on about, before you eventually agree with me, I'll focus my attention on to Hopskotch – the street food kitchen housed within HOAX. It's chic and stylish with a large L-shape bar dominated by shiny chrome, then dotted around the outside is a wallop of colourful sofas. Low hanging funky lights and an impromptu dance-floor next to where the regular live music entertainment brings people out of their shells, including yours truly, who bedazzled the locals with the questionably-gay shirt and dance moves. Well, someone had to, it took a bit of coaxing to get the other journos to loosen up.
Breakfast is a bit of a treat in HOAX. You can go for the buffet and take all the cold bits you want back to your seat – typical hotel/hostel style. If you'd like a hot version then I tried to be healthy and went for Eggs Florentine (needed a bit more seasoning), whilst some of the others ploughed through what appeared to be a quality-cooked Full English.
Lunch and Dinner is an all together better game at Hopskotch in my opinion. The menu has something for everyone and doesn't go too hardcore Americana, though you can still find the pulled pork, burgers, hotdogs and ribs. There's a distinct Mediterranean aspect with ingredients such as halloumi, salted cod and calamari; whereas the rest of the world is represented by thai fishcakes, bunny chow and Canadian French toast. You can go tapas if you fancy and try a bit of everything, which seems the best choice.
Chicken Caesar Salad is one of the better ones, light and crispy lettuce, dark and crunchy croutons, warm grilled chicken and bacon bits that ever so slightly melt the parmesan flakes. The ribs are slow-cooked in the increasingly popular cola recipe. I first saw the recipe on an episode of Come Dine With Me and have been meaning to give it a go for a while purely out of curiosity. Now I can say I've tried cola ribs and bizarrely, it's a really incredible recipe. Sides of slaw and fries for everyone, it's a winning menu and you're not left feeling guilty from too much deep-fried batter.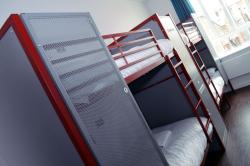 If…IF…and I mean IF you like the Beatles, well, you lucky lucky person because HOAX is literally down the street from the Cavern Club and every other pub that in some way has a link to The Beatles…I'm not sure there's a place without a Beatles connection in Liverpool. Whether you're a fan or not, it's a prime location to base yourself at really cheap rates that still give you all the essentials and some decent customer service thrown in…and I'll be going back.