Iberica, Farringdon, 89 Turnmill Street, London EC1M 5QU www.ibericalondon.co.uk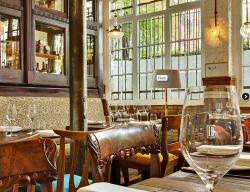 When you walk into Iberica's fourth restaurant in Farringdon, you'll automatically slow down to Spanish time.
The latest in the Iberica group at the time of writingg it's decorated in a way that's stylish without being trendy and authentic without being kitsch.
There are mismatched wooden tables (of the dark, Spanishy kind rather than the Gastro pub scrubbed type), lanterns, oil paintings and pretty tiles. And there's not a jot of Brooklyn/ J.Oliver-inspired'industrial chic' anywhere.
The lighting's at just the right level of dimness and the burble of music and your fellow diners (mainly mid-30s upwards) puts you at ease.
The entirely Spanish staff are attentive and have a friendly lightness of touch too.
To kick things off, we enjoyed a glass of Cava Sangria. Bursting with blackberries, oranges and pomegranates, as well as a heady amount of booze, this sparkler got us in a relaxed mood for our meal.
And like the décor, the food – created by three Michelin starred Executive Chef Nacho Manzano­ – achieves a nice balance between tradition and innovation.
To start we chose a trio of Iberico ham from different regions in Spain, varying in strength of flavour and expertly sliced as you might expect.
Alongside this came what looked like a humble slice of toasted bread with tomato – but its looks were deceptive as it exploded with juicy fruit flavours, ripe olive oil and a tangy crust of sea salt.
Next up was a real crowd pleaser – Serrano ham croquettes – pouring with hot, rich béchamel that gave way to the salty ham lying deep within.
So far, so traditional.
But as we moved on through the tapas, we began to see innovation such as the Lamb sweetbreads with'two way egg' (a deep fried poached egg  that oozed beautifully when it was smashed open).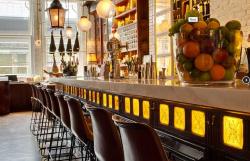 But this was no trendy dish, rather one with a deep flavour from the meat, sharpened by the roasted red peppers it came with and given a richness by the manchego foam on top.
As well as tricks with foam, the menu offers another nod to food fashion in the form of the mini pork burgers.
But there's no need to inwardly groan when you see the'sliders' appear. The zing of the piparra – sweet, pickled peppers from the Basque country – and the tang of the homemade dipping mustard combine perfectly with the succulent meat.
As well as the earthy flavours, Iberica also does'delicate' and fish extremely well. We tasted two fish dishes and the stand-out was the sea trout with almond puree, pickled cauliflower and smoked olive oil. The fish was served warmish and had a gentle flavour given depth by the almonds and another accent from slightly sour cauliflower.
Throughout our meal, we drank a bottle of Mala Vida – a blend of Cabernet, Monastrell and Tempranillo –  (£25) wisely suggested by our waitress. With a fruity fullness in the front of the mouth and a dry light finish, it went well with everything we ate, standing up to the meat but not overpowering the fish.
To finish off, traditional Spanish rice pudding was given finesse with a thick and crunchy caramelized top and the tarta de la abuela (another traditional chocolatey pudding) was dense and rich without being overwhelming.
Iberica's found a real gap in the market. While some tapas restaurants are frantic and noisy, Iberica's got a more laid-back, grown-up attitude. It's relaxed, they take reservations and there's none of the Polpo posery involved in some'small plates' restaurants.
So it's no wonder that while Farringdon's Iberica's fourth restaurant, it certainly won't be its last.