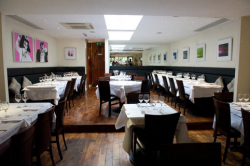 6 The Green, Warlingham,
London, CR6 9NA indiadining.co.uk
I clearly hadn't done my research. I arrived for my visit to India Dining in Surrey with my overnight bag, having arranged to go on to review a hotel nearby. I had little idea that Warlingham, the restaurant's village location, was so accessible from central London.
'We are in zone six, here', explains the gentle owner, smiling as red London buses drive past the village green. Clearly driven, Asad Khan has lovingly created a sophisticated Indian restaurant that caters to the well-heeled locals as well as those who make the short journey from central London by train.
Khan's high calibre team has been recruited from stables such as India's distinguished Taj and Oberoi hotel group. The chefs offer a modern, inventive menu where you won't find fiery vindaloos but more subtle fusion cuisine; in fact most of the dishes were light enough for my lunchtime visit.
The amuse bouche and between-course sorbet (champagne pomegranate or lemon) borrowed from the high dining traditions didn't seem out of place in Indian Dining's urbane setting. I find the clean, modern interior of white walls and dark wood pleasing, although the eclectic contemporary art slightly less so.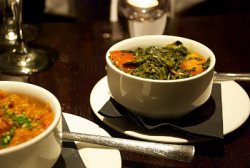 Highly tempted by the Scottish king scallops in butter and garlic in spicy tomato broth, I go for a starter of soft shell crab in garlic and lemon garlic gram flour. Flavoursome, delicately spiced and served on a welcome bed of lettuce, it comes with an unexpected mustard 'alioli' emulsion and would have been stronger without the rather retro zig zags of balsamic reduction. My husband's guinea fowl in a marinade of Greek yoghurt, garlic and chilli is an inspired combination that we can't fault.
The kindly patient waiter explains that the menu – which is well presented and offers a good variety of dishes – changes monthly.
We ask him to tell us about the small pools of colourful sauces that arrive with the guinea fowl and he is happy to oblige. 'That one is mango and mint coulis and the other is coriander mint and basil – Indian pesto', he laughs.
Cobra lager appears hidden away right at the end of the extensive eight-page drinks menu that features pages and pages of fine wines, elaborate cocktails and even mocktails. We decide against the intriguing sounding Indian mohito made with an Indian spirit known as 'deshi', or a pink Sambuca. Instead we plump for a classic Gin and Tonic with Bombay Sapphire, which perfectly whets my appetite for the small mountain of tandoori king prawns that soon appear.
Knuckle-sized prawns are exquisitely flavoured and perfectly textured – this accomplished dish is nothing short of outstanding. I loved the 'masala mash' – good old mashed potato with masala spices served in a pot with onion and coriander. Why hasn't anyone thought of this before? Indian Dining's menu is peppered with such inspirational inventions, but doesn't make too much of a song and dance about it.
Other good ideas include a tasting menu available both for lunch and dinner. For £32.50, diners get a choice of three starters and three well chosen mains – tandoori salmon, Rajastani lamb and chilli prawns, served with vegetable side dishes, rice and dessert. The restaurant also puts on events, including Indian cookery master classes, provides private catering and apparently does a roaring trade in takeaways.
Asad Khan's and his staff's dedication has in no way flagged by the time we get to dessert. I was delighted to see such startling combinations as beetroot pudding with cardamom and star anise, alongside one of India's most popular classic desserts, gulab jammu – rose sugar soaked dumplings and buffalo milk kulfi with cardamom scented ice cream.