As a little piece of America lands in London, offering all-day brunches with a side of live jazz, Tracy goes stateside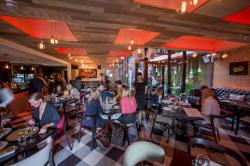 People seem to be divided into two camps: morning lovers (you can spot them on your commute; they're the chatty ones, no matter the unearthly hour). And then there are those who believe, like cartoonist Jim Davis that, "Good morning is a contradiction of terms".
I belong firmly in the second camp, which means not only am I reluctant to socialise at this hour, but I'm also disinclined to eat. Coffee is, of course, vital, but breakfast is something I happily skip. But, delay this meal by a few hours and call it brunch, and I'm a convert.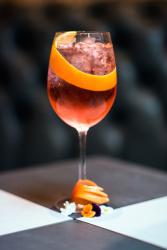 While breakfast brings to mind images of toast and cereal eaten on the go, brunch is all about long, relaxed dining with delicious menu selections – and perhaps a Bloody Mary or two. Very on trend for weekend get-togethers, the concept was one I believed was thanks to the Americans. But, in reality, the concept is neither new, nor American. In the UK in 1895, Guy Beringer mentioned'brunch', "…a new meal, served around noon… [that] would make life brighter for Saturday night carousers".
And now Hotel Chantelle (which opened in New York in 2010) has opened in London, offering not only brilliant brunches, but also the opportunity to be both diner – and reveller – into the early hours.
Situated just behind Selfridges, above the nightclub Bonbonniere, it is described as a'dining-meets-nightlife venue'. But there's no need to be concerned about getting a good nights' sleep here, as it isn't actually a hotel, it's named after a French WWII safe house.
The latest venture of restaurateurs and partners Frank Alessio, Kyle O'Brien, Ravi Patel, and Seth Levine, who is executive chef, Hotel Chantelle serves brunch
on Saturdays and Sundays from 11am to 4pm. And, as you might hope, the menu covers both traditional-with-a twist breakfast and lunch dishes.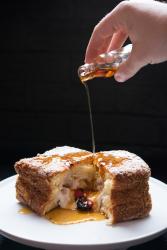 Kyle O'Brien described the food as American with a fun French influence, and starter dishes include Thyme Pomelo Brûlée (who'd have thought thyme and grapefruit would work, but it was refreshingly light and tart), The Chantelle (a salad which included sweet beetroots, goats' cheese, candied walnuts and a roasted shallot and chardonnay vinaigrette), and Summer Cucumber Gazpacho (a smooth, chilly mouthful with a hint of spice – a first for pre-lunch dining, but definitely a delicious wake up for the taste buds).
Large plates include a luxe version of eggs Benedict, Lobster Benedict, which was rich and comforting. Admittedly, anything probably tastes good with a spoonful of hollandaise, but with chunks of lobster it was unforgettable – and is sure to be one of Hotel Chantelle's most popular dishes.
Sticking to the lavish, the American Cheeseburger's optional extras include seared foie gras and shaved truffle. Each bite was a meaty, juicy, chargrilled extravagance. Not perhaps the first thing you think of on a brunch menu, yet it went down rather well, along with a Daddy Issues cocktail (rosé, esprit de june, aperol, lemon and a little fizz).
Other menu choices include Avocado Toast, oysters from the Raw Bar or a Breakfast Pizza (topped with scrambled eggs, bacon, Cheddar, chives and spicy ketchup). Frankly, deciding whether you want a dish that is more'breakfast' or'lunch' will be the only challenging part of your visit, but that's where the live jazz comes into its own. Watch the band, tap your feet and sip a cocktail as you decide what you fancy eating.
For the opening, Dandy Wellington  provided the wonderful jazz; music that transports you to a more elegant age, where you'dressed' for meals and it would be wrong not to have a cocktail in hand – this time a easily quaffable Bellini (although the Cloud Rider, with gin, lavender tincture, egg white and lemon over ice was very tempting, too). If you enjoy this sort of music, the weekend jazz brunches are a must – see Dandy or be entertained by the programme he has curated.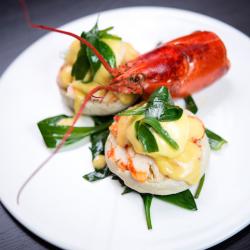 Those with a sweet tooth will find satisfaction with the French Toast, a brioche stuffed with maple-infused mascarpone and ricotta, crusted in frosted flakes and with maple syrup served in what looked like a mini Coca-Cola bottle. True to the idea we have of American portions, this looked huge – perfect for sharing, or for one, if you're giving your inner glutton free rein! Or there's the Baked Alaska Waffle, a Belgium waffle topped with vanilla ice cream, sautéed pineapple, brûléed meringue and cinnamon rum syrup.
The service had that friendliness you associate with Americans, and was attentive and efficient. Along with the music that evoked New Orleans, and the food that was indeed a little fun, but also delicious, Hotel Chantelle is the perfect place if you want to enjoy great breakfast-inspired dishes – at a more civilised time of the day. And that's just its brunch – it is, in fact, open until 3am and, with the imminent arrival of 24-hour tube services, I'm tempted to maximise this new opportunity to enjoy more of the wee hours without a costly cab trip home. So late-start brunches plus late-night dining… This night owl might just have found her perfect spot!