4 Princes Buildings, George St, Bath, Somerset BA1 2ED lebistrotpierre.co.uk
Bath and Bourguignon, Tom heads southwest for a lazy lunch at a French bistro…
I remember when I first moved to London, I was sure I could become a city dweller. A lover of crowds. A metropolitan man armed with an Oyster card and a passion for pavements.
But, as much as I enjoy living in the capital, the truth is I will never be a true Londoner. So, every now and again I have to pack a bag and run, run away from London and take a deep breathe of fresh air.
On one of these recent escapes I found myself in the pretty, and historical, south-west city of Bath, wandering along George Street looking for the recently opened Le Bistro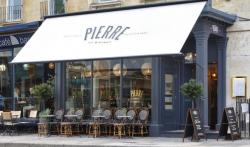 t Pierre.
I'd never come across the chain before, possibly because although they have fourteen restaurants across the country they seem skilled at picking places of obscurity; Harrogate, Leamington Spa, Plymouth, Stockton Heath, Torquay.
Still, some of the best food comes from obscure places, like the kebabs at the uninteresting and easily overlooked Patogh just off Edgware Road in London.
I'll get this out the way now; there are similarities between Le Bistrot Pierre and Café Rouge. They both serve French food and sit within a similar pricing bracket, but any further comparison would be both lazy and unfair. The red café will not be mentioned again.
We were seated quickly upon arrival and presented with the Prix Fixe Lunch Menu. The very cheap Prix Fixe Lunch Menu. Admittedly, I have probably become accustomed to London's'lets-double-the-price-because-these-mugs-will-pay-it' prices but two courses for £10.95, and three for £12.95, seems reasonable whatever the postcode.
We ordered a few drinks, thankfully it was perfect weather for a Cidre Breton, and scanned the menu whilst the busy but polite waitress dropped some bread on our table.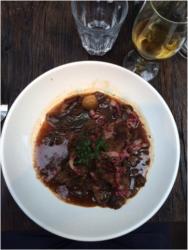 As in many restaurants the bread was out on the side, sliced as and when it was needed. Unfortunately we had been given half of an older, staler baguette, but the other half was soft and filled a gap while we ordered. I was too relaxed for a bit of stale bread to bother me.
My starter was everything it needed to be. A gooey pot of mushrooms and, I believe, Gruyere cheese sprinkled with bacon pieces. Simple and tasty with all three key components getting along wonderfully. 
My accomplice's goat's cheese was equally pleasing.
Although I'm sure I can easily be proved wrong, I generally place French restaurants in two distinct groups; the overly formal and complex camp, and the homely, hugging, comforting camp. Judging by the starters, Le Bistrot Pierre would be pitching its tent in the latter.
Mains followed suit. My boeuf bourguignon was unbelievably generous with its meat. Chunk after chunk of slow-cooked, well-seasoned beef sat in a good sauce and came with crisp fries. A blob of Dijon mustard on the side, and another bottle of cider, made for a truly enjoyable Friday afternoon lunch.
My accomplice's main, a crème fraiche, caramelised onion and smoked bacon'Tartes Flambées', caused a little confusion. It was described as a'French-style flatbread from Alsace' but appeared as more of a tart. I am not, of course, arguing with the restaurant over their knowledge of French flatbreads as I'm sure it is far better than my own, but feel the description may mislead a little. Especially as two ladies next to us ordered the same and upon receiving their dishes promptly exclaimed, "Well that is not what I expected!"
That said, it was really quite tasty and could be ordered with a few other appealing sounding toppings.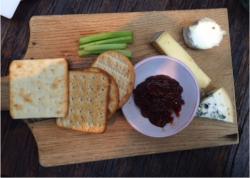 We were too full for dessert. Far too full. Yet before I knew it I'd ordered a cheese board and my accomplice had a Crème Brule on the way.
Both hit the mark, the cheese board offering up a nice goats amongst others, and the large Crème Brule delivering the creamy, vanilla-ry hit that only a good coffee can cut through. Thankfully, our waitresses soon slung a few cups our way.
I'd visit Le Bistrot Pierre again. It was a solid, enjoyable, good value meal with only the tiniest of hiccups and if you find yourself in Bath, Cardiff, Derby, Harrogate, Ilkley, Leamington Spa, Leicester, Newport, Nottingham, Plymouth, Sheffield, Stockton Heath, Stratford or Torquay I'd recommend you do the same.
Got a taste for value? See how NIk got on with a set-price menu at a high end hotel.
Or if you prefer your French restaurants to be run by Russians Nick might just have the place for you.