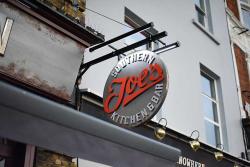 Anita gets taken for a criminal at Joe's Southern Kitchen but loves doing 'bird'.
Seems Kentish Town in North London is still riddled with crime; despite being home to food critics such as Giles Coren, gentrification has been a horse-drawn carriage. And new restaurant Joe's Southern Kitchen just by the tube station is feeling it. In fact anyone that has the temerity to venture outside and sit in its courtyard could be a crim – the first thing
I was asked to do last night when eating there was hand over my credit card because diners do runners.
I wouldn't scarper. I'd happily pay for its excellent buttermilk marinated chicken wings. My yardstick for fried chicken, I'm not ashamed to say, is KFC – whose hot wings I'll swerve off the M6 for. Those at Joes, however, had less of a thwack in flavour – nicely subtle, and werenowhere near as greasy. And so soft! Top marks.
Opened this month, JSK sits on the site of the former Kentish Canteen ,which I also reviewed when it seem the terrace was a little more welcoming. But those sitting outside at JSK might benefit from a little more TLC (of which, more later).
Serving food from the American deep South, JSK is all grits and Mamas biscuits and loads of Bourbon; posh fast food building on the success of its sister site launched in Covent Garden in 2013.
Its manager Jim Robertson has said, "The restaurant scene in NW5 is about to explode and we want to be a part of it," so fried chicken must appeal to more than 14-year-old schoolboys in this postcode. JSK's birds come free range from a farm in Yorkshire and are air-chilled, which does sound a little odd though I'm sure it's meant to be a good thing.
Foodwise, apart from the marvel of chicken wings, we enjoyed the devilled eggs as a starter whose golden quiffs quivered with bacon shard and whose chicken skin mayonnaise bed was sublime. D loved his starter of deep fried short rib meat loaf with red onion jam and poached egg – salt and tang. He also liked the collard greens, which is unusual as D, my bro, has loathed greens since childhood.
I said I'd return to the outside bit again. We'd been sitting out having pounced on a seat to make the most of the last April rays. Of course the sun sank 10 minutes after we sat down leaving us to shiver in the dark. But there were no seats indoors, the place doing a brisk trade with families and groups of friends all evening.
D's appetite shrank as he shrivelled into his jacket. Both of us slowly deflated, wishing only for a warm bed. There were no lamps outside – probably nicked – so we sat in the darkness. Everyone that braved a seat outside suddenly rushed indoors leaving just us. When the staff finally shut the doors on us, leaving me, D and a lonely-looking punter stranded, our mains seemed to also wither.
That may be why we weren't wowed by Joe's Prison Plate (in our outdoor gaol). It was OK – some creamy grits that tasted a bit like rice pudding, a mound of pulled pork, coleslaw, BBQ beans – and redeemed by a good dumpling-like bread. Their signature Sweet Tea Brined Fried Chicken with
Lemon Salt & Tabasco Honey was also fine, the skin perhaps too crunchy but I preferred the wings, perhaps because we'd eaten them in sunshine.
We did finally make it back inside to the convivial atmosphere and retro 50s décor. Things started looking up. Northern soul music bopped. The peanut butter fudge pie with Chantilly cream was moreish, silken inside and bobbled out like exploded magma. Other puddings were traditional deep south such as pecan pie. Needless to say, none of this is diet food but you can't come somewhere like this expecting healthy.
There's a vast selection of drinks here, perhaps because their new basement bar Jailbird was due to open at the end of April. Bourbons, ryes, liqueurs and cocktails dominate. A Rumdog Millionaire cocktail with Brugal Anejo 5yr rum, lime juice, spicy mango syrup, fresh mint, ginger beer and a crème de mure float paced itself well. But a Kentucky Cousin cocktail ofcherry and rye bourbon proved impossible to approach, so high was its mound of crushed ice quickly pooling on the table. The superfriendly staffdid come to the rescue though – a rookie waitress brandishing a straw on a platter.
Judging by the custom, JSK will do well for a while – it seems a tricky spot on this corner. Let's hope it survives the light-fingered ones of NW5.