23-27 Arcola Street, London, E8 2DJ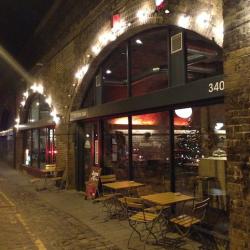 Walking along Clapham High Street, a thought sprang to mind. A dangerous occurrence, I know. This thought was of a new blog, one where I start at Clapham South (I'm not going further than Zone 2), follow the Northern Line and attempt to eat in every restaurant along the way.
As I walked, I explored this idea further, counting the restaurants along a short stretch of road. By my calculations, I'd be destitute by Clapham North and if, by some miracle, money was no object, I'd reach Oval aged 75, riddled with gout.
Like many of my thoughts, this was a bad one. But, for a change, it's London's fault that this wouldn't work, not mine.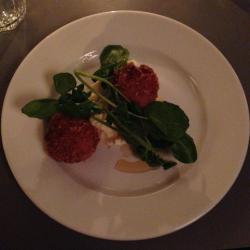 London is straining under the weight of the ever expanding roll-call of restaurants. Abandoned toilets, disused tube trains, hanging from a crane above London Bridge, you can find somewhere to eat almost anywhere – soon you'll have people serving sandwiches on the bus, what an idea that would be!
TripSpace Projects in Haggerston is another venue on this rosta of the slightly strange; although, instead of sitting on a latrine backwards, drinking your coffee from a bog-brush holder, TripSpace has the more sleek, minimalist style that comes from a vacant, brick-lined archway beneath a railway.
They should do this more often with these spaces: fewer scrap dealers, more places for us'young' folks to play. A railway arch merges the aesthetic merit of Victorian architecture with the calming hum of passing rolling stock. How often do the trains go by? So often that you won't even notice it.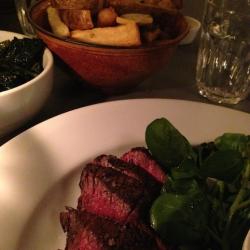 Taking up residency in this neat little space is Jones & Sons – a restaurant and bar, further north in Dalston. Here, they serve up British/European cuisine on hot white round plates, matching the neat interior perfectly and an excellent litmus test of any restaurant. Don't get me started, but a cold plate is inexcusable – a lack of attention to detail that will carry into the food, I guarantee it.
After a three-course meal earlier in the day, I bypassed the pig cheek starter that winked at me from the menu and went for the lighter roasted squash croquettes, with goat's curd and honey. This is exactly the sort of dish that could turn anyone vegetarian. The sweet squash and even sweeter honey paired perfectly with the bitter curd – a better way to eat more of your 5-a-day, you won't find.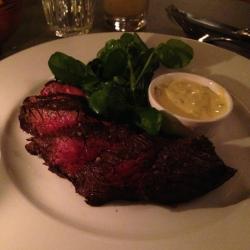 A meat-free starter has to be balanced by something which once breathed. To achieve this goal, the butcher's steak proved the perfect tool. A thick healthy cut of steak, black on the outside, pink on the inside. Surrounded by chips – once I'd put them there – with a Béarnaise for the dipping, this is just the way a steak should be. And the chips, fat, chipped in-house, with a total absence of salt. What a result! Pre-salted chips are just an offence best reserved for the laziness of McDonald's. I'm a grown-up. I can salt my own chips, just how I like them.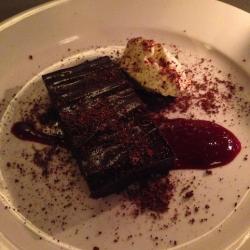 By now, that 3-course lunch was starting to take it's toll. Some meat left with my plate, as did a few chips, but I had to sample a spoon of dessert to complete this sweet steak sandwich – the health of vegetable soaked in honey on one side and the artery hardening goodness of a raspberry and chocolate torte on the other.
The pudding was a literal slab of chocolate, cut to match the brickwork (I'm sure) and cemented in place with raspberry sauce. The sort of deliciously bad-for-you pudding that had my stomach screaming'no more!' after a single spoonful. I'm sorry. I failed. Three courses and I barely managed two. Blame me, blame Mr Oliver, just don't blame Jones & Sons at TripSpace Projects.
Like steak? Read these…