One of the best things about living in London is that there's always something new to discover, and last week, behind the old Barkers building, we found Kensington Square, a little haven on tranquility, yet within sight of the ever-busy High Street. We were charmed at once.
Kensington Square Kitchen occupies a relatively small space, but has two floors and is decorated in a simple welcoming style, with lots of cream and light green, giving a pleasant, almost sea-side feel to it. There's a small covered area outside, with nice views across the square. Despite the cold weather and pouring rain, some hardy couples were determinedly lunching there, but we took shelter inside, naturally.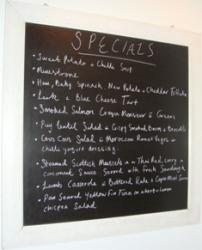 We went for lunch, and the set lunch menu sits alongside daily changing specials; we chose one of each. The pan seared tuna, with a herb and lemon chickpea salad was a terrific summery dish; the tuna seared, as promised, and nicely rosy inside, while the accompanying chickpea salad had lovely fresh parsley, mint and basil leaves with a light lemon dressing, a generous amount of cherry tomatoes added welcome sweetness. The home-made Aberdeen Angus burger was also very good, the meat was cooked medium rare, leaving it pink and fabulously soft and juicy. The floured bun was nicely light, but held the burger well; coleslaw and crispy fries were the perfect accompaniment.
There's a wide range of teas, coffees and soft drinks on offer, but we decided to share a bottle of Sauvignon Blanc, which was nicely crisp and fruity. The wine list isn't huge, but it doesn't need to be, as there is a good selection, and plenty of choice under £20.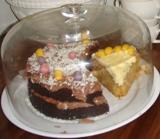 Although our lunch dishes were well-sized plates, we'd spotted the selection of home-made cakes, muffins and brownies, and we were determined to find space for some. The carrot cake was superb, it had a light texture, very moist and plenty of carrot with a slightly citrus tang to the creamy topping. The Chocolate cake was also very good, packed full of chocolate flavour, with a smooth, creamy filling and topping. With freshly made two-shot lattes, this was a great way to finish off a rather indulgent lunch, that would have been equally as good as an after-shopping treat, or any other treat, frankly!
Kensington Square Kitchen is open for breakfast, brunch and lunch – and dinner from the beginning of May through the warmer months, when the terrace doubles in size: check their website for details and give it a try – just be sure to leave room for cake!