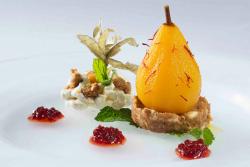 448 – 450 Fulham Road London SW6 1DL www.kishmish.biz
While travelling to Indian restaurant in Fulham, on what I think is the most useless underground line in the whole wide world I really hoped that it would actually be worth it.  When it comes to Indian restaurants there normally is very little to be excited about, but I am always ready to give it a benefit of a doubt, and to my surprise I was in for a big treat.
Kishmish struck me as a well designed venue, simple and even a bit understated, an interesting blend of western and Indian designs. Maybe it was the dimmed lights, or just general ambience that made me feel like it is a perfect venue for those who want to escape loud crowds.
As soon as the menus came , I immediately realized that Kishmish is not a standard Indian place serving soggy over spiced curries. Kishmish offers guests a wide range of starters and mains, from traditional ones like Onion Bhaji to innovative dishes which can only be described as blend of Indian and English cuisines.
I enjoyed every bite of my starter and main dish: rabbit was cooked to perfection, and curry from Kishmish's autumn menu took curries to whole new level. And it couldn't just be me, as my dinner companion has cleared his plates too- he was more than pleased with his Char-grilled wood pigeon breast starter and Pan-fried Gressingham duck breast he had for main. It's safe to say that this is my new favourite Indian restaurant in town.
Probably the best part of the dinner was the dessert. I chose to have a poached pear spiced with saffron, and if Kishmish was next-door, I would have it every single day. Light and not overly sweet, this was a perfect finish to a great dinner.
Kismish claims to be delivering innovative Indian food to their customers, and it couldn't be more true: food is indeed innovative, cooked to perfection and beautifully presented.
Overall, I must say, that a ride on a district line was more than worth it: excellent food in relaxing and intimate atmosphere is just what one needs after spending days in crowded streets and offices of London.