La Mancha, 142 Chiswick High Road, W4 1PU  www.lamancha.co.uk
A dark and dismal November evening has befallen Chiswick High Road. After a brave fight, the year's unusually long summer and warm autumn have ultimately yielded to a national institution: a bitterly cold, wet British winter. Wind howls angrily through the streets, and rain pounds down onto the heads of the Chiswick accountants and barristers who scurry back home from work, wanting nothing more than to retreat into the warmth of their oak-panelled semi's and relax with a cup of Earl Grey and the Telegraph's iPad app.
Difficult to believe as I share the pavement with them that just a couple of years ago I was basking in the Andalucían sun, enjoying the sunshine, positive vibe and, of course, tapas. Small plates may be all the rage on London's dining scene at the minute, but the Spanish invented it and still lead the way.
Recently relocated from Putney, La Mancha aims to bring a slice of this tradition to West London – and heaven knows the High Road needs it. The current situation presents a grouping of passable but somewhat overpriced nationwide chains serving pseudo-Portuguese mass-produced chicken and purportedly upmarket burgers, which cost £10 a pop but don't come with so much as a salad garnish on the side.
Here, then, is an independent, Spanish-owned and run establishment. Can it provide a much-needed ray of sunshine onto Chiswick's dining scene?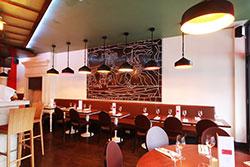 La Mancha is small and softly lit, with relaxed Spanish music emanating from the speakers. Whilst the decor won't feature on Grand Designs anytime soon with its now ubiquitous bare brick walls and modern furniture, the tried-and-tested mix of old and new forms a pleasing enough environment in which to spend an evening with friends.
The food arrives surprisingly quickly. Tasty, too. The pork belly is cooked to melt-in-the-mouth perfection, with the crackling done just right, and the homemade apple sauce is sweet, with a hint of vanilla. Large, plump tempura-style king prawns are wonderfully fresh with a crispy batter, and the accompanying garlic butter is well made and seasoned perfectly. This is on the specials menu, which changes weekly. It's good to see that the people behind La Mancha aren't resting on their laurels and are continually offering new things to entice repeated visits.
No tapas experience would be complete without jamón, and the Serrano at La Mancha has the right amount of fat on it, which adds flavour and melts in the mouth instantly. I wish that the fried calamari was crispier, though this is the only fault I can find with the otherwise excellent tapas dishes.
Our dessert of crème caramel is well made and beautifully presented. Its presentation is far better than the tapas that preceded it, which rather draws attention to the simple presentation of the tapas. This is okay, however – this is unpretentious, neighbourhood dining, rather than an opulent Michelin-starred feast.
Our recommended wine, a Marqués de Cáceres Rioja Crianza, proved a worthy accompaniment, though in the interest of fairness I should disclose that the extent of my wine knowledge is a hearty'mmm, red, taste good, more please!' when something tickles my fancy.
The service was friendly, with our Spanish waiter's grasp of English only slightly above average, though in an endearing and authentic, rather than obtrusive and cumbersome way. Which sums up La Mancha rather nicely – a few decent Spanish blokes setting up shop on a busy British high street, giving the people of Chiswick an authentic taste of wholesome Spanish cuisine. It is a worthy alternative to the commercial chains, which most of us have had enough of already. Long may it continue.