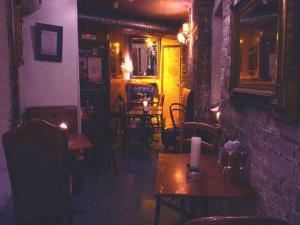 Back when I was on minimum wage in a London ad agency, I used to regularly walk past Le Garrick when on my way to recordings in Soho (I'd claim for a cab though, I was that desperate). It always looked cosy and traditional and in summer there would be tables outside so that my envy level could be stoked up still higher.
Finally, umpteen years later, I get to eat there and while it isn't the nirvana my 22 year old self fondly imagined it would be, it's still a good restaurant at a good price with honest French Bistro food. The downstairs vaulted dining area (actually the old house's coal cellar and servant quarters) is still a piece of the 1980s, more like a submarine than a dining room, but at least it has character and that's more than you can say for most places in the Covent Garden catchment area.
In fact by bizarre coincidence I am lunching with my old Art Director and in the next door booth I find a whole bunch of adland mates I haven't seen for years, perhaps they've been here all the time? No windows often tended to lead to long lasting lunches.
Ensconced in our booth, watching staff hurry past as if on their way to the torpedo room, we nibble on French bread and olives while looking at a laminated menu in a leather sleeve with metal reinforced corners. This is a real commando of a menu, designed to remain in service even after the building has collapsed around it, triumphantly pulled from the rubble by a waiter, dusted off and used again. It's a list of what people always want to eat all year round, so why make it less than bullet proof?
Not that there aren't specials of the day, but the waiter has those in her head, and every day there is a fixed special on the menu, so that even if you've forgotten your name and where you live, you'll at least know what day of the week it is by looking at your plate. This is all very French and nothing wrong with that.
The soup of the day today is carrot with Szechuan peppers, which is a bit fusion but carried off well with the tingly pepper kept under control and the carrots sweet and not pureed to death. You could stand a baguette up in the soup if you wanted.
My quick seared squid Provencal in a broth flavoured with pastis doesn't seem all that seared, but the squid is tender and the broth recalls holidays in the South of France. I like it; it begs to be mopped up with bread which, in correct French, manner keeps coming every time we empty our basket.
Steak and Chips is always a good test of a bistro or brasserie, as is the cut of meat they offer. No decent place is going to offer fillet, that cotton wool steak, but not many will offer onglet, or hangar, steak either, which for my money is the best steak you can get. That Le Garrick offer it as part of a set lunch deal shows proper respect for diners. It's cooked 'a point', as it simply won't work unless bloody – people who demand it to be cooked medium, and then moan that it's tough, should be escorted outside and beaten up. The onglet has bags of flavour and chef has charred the outside just right. You always have to fight with onglet a little bit, you need a sharp knife, but it's well worth it. The chips are good too, but the peppercorn sauce was insipid. Crunchy French beans are just the job to pick up the juices
L has fish of the day, a whole bream on the bone. She spends half her meal fishing bones out of her mouth, is that the restaurant's fault, the fish's or hers? Anyway, it's a big hunk of poisson simply cooked and, bones apart, enjoyable. Classic side of peas and bacon is the right accompaniment.
Desserts are perfectly okay. Crème brulee is what you'll get in any French bistro; it's easy to keep in the fridge and this one has a good whackable top and creamy interior. My Lemon Tart was simple and cleared the palette well.
No one's looking for Michelin Stars at Le Garrick; it exists to serve well-priced., well-cooked food in a cosy, clubby, environment. And it is very well-priced particularly at lunchtime with set menus. They've launched the Lunch Club which gives a 10% discount off a lunch bill to all members. Membership is free, so what's not to like about that? At that price even the old me could have afforded it, I'd probably still have fiddled my cab fares though. Some things never change.