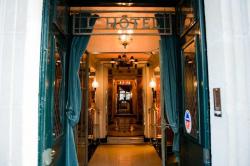 Le Restaurant, L'Hotel, 13 Rue de Beaux-Arts, 75006 Paris www.l-hotel.com
When you think of Paris, what springs to mind? The Eiffel Tower? Chic Parisian women? A bottle of red and an oozing camembert? Or the city's reputation for having the finest cuisine in the world?
For me, it was all of those things and, after sharing a Eurostar carriage with the stereotype of a Frenchman (Breton striped t-shirt and buttery accent but sadly no beret), comparing myself disfavourably to the Brigitte Bardot lookalikes sipping coffee by the Eiffel Tower and treating myself to a camembert riper than Thierry Henry's post-footie match t-shirts, it was time to test Paris' esteemed cuisine at Le Restaurant, the Michelin star restaurant in L'Hotel, one of the most famous four-star hotels in Paris. 
One of Tatler magazine's top 101 hotels in the world, it's owned by The Curious Group of Hotels and is situated on Rue de Beaux Arts, a picture-postcard street with red verbena hanging from the window boxes, and galleries on every corner. But most impressively, this nineteenth century hotel is steeped in history – it was frequented by Salvador Dali, Princess Grace, Frank Sinatra, Elizabeth Taylor and was the last home to Oscar Wilde.
Stepping into the circular lobby and looking up at the candelabras glinting from the ochre-coloured balcony on each of the six floors or sitting in the plush red velvet armchairs in the restaurant, you can't blame the poet, for living a lavish lifestyle beyond his means. This is the definition of opulence –  and it feels good!
We kicked off with a glass of champagne and a selection of h'ors d'oevres that wouldn't have looked out of place in the gallery across the street: Tiny squares of tender salmon topped with caviar, a miniscule savoury biscuit barrel filled with truffle-infused cream, a paper cone filled with deep fried lotus flowers (nutty, salty and moreish) and our favourite, a thimble-sized chorizo brioche that melted on the tongue with a paprika hit. Chef Julian Montbabut, who has been at the hotel for around 18 months, had set the bar high.
While background music – Tainted Love followed by French jazz – was rather odd, it gave the restaurant a relaxed feel. This place wasn't pretentious – the clientele ranged from a suited couple in their fifties to a woman in silver furry boots with a wayward toddler. And you wouldn't expect a purple leopard-print carpet to work in a four-star hotel but somehow it did – and it felt more Champs Elysee than Chelmsford.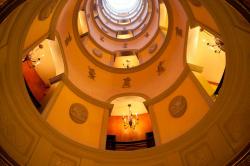 Since we were in Paris, it seemed rude not to try the frog's legs and I wasn't disappointed. Yes, they tasted like chicken but golden brown, fried, delicious chicken. Served with Mediterranean ingredients, fregola sarda, a Sicilian pasta that looked like finely sliced macaroni oozing with a spinach sauce, a medley of tomatoes, Iberico ham and parmesan and topped with a tiny wild, purple flower it tasted like an exotic Caesar salad and looked like a fairy forest.
M's choice of the Normandie Scallops was the most beautiful dish either of us had ever seen.
Slithers of white scallop covered in flecks of edible gold, Fleur de borache (blue edible flowers), apple blossom, shavings of apple, and black and pink caviar, it was like a jewel-covered pizza.
M had hated scallops but after this meal was a convert. It was an explosion of flavours – tender, salty scallops, sour apple, nutty caviar, gelled with a creamy, oniony gazpacho.
Eating a main dish of pheasant, packed with Autumn flavours – a deep brown spiced jus with a hint of star anise and cinnamon, a delicate, creamy pumpkin puree, caramelised shallots, smoky soft chestnuts and raw slices of mushroom for texture – was like being wrapped in a wool rug after being caught in the rain.
And M's seabass was a hit too. Served with a spiral of pastel-green braised fennel, the seabass had a mellow lemon flavour spliced with the aniseed from the dusting of fennel seeds. Topped with fennel flowers (this dish is an ode to fennel!) it looked like it had escaped from Giverny Gardens.
And then the best bit – dessert. M chose a perfectly light, soft, lemon meringue, covered in flecks of gold leaf while I chose a buttery semi-circle shaped biscuit crowned with fresh figs from Soilies, edible flowers and fragments of brioche. A riot of colour, it looked like a beautiful tiara, and though I hankered for slightly juicier figs, the spiced red berry panacotta and buttery, brioche-flavoured ice-cream was a good marriage of flavours.
We were disappointed that our meal had to end. Montbabut had chosen seasonal ingredients, combined them ingeniously, provided hearty portions and presented them beautifully. Costing around £180 for two of us (excluding wine) Le Restaurant is a venue for a special occasion – but has kept Paris firmly on the map for top cuisine. I'll definitely be going back to L'Hotel – so for now it's not goodbye, just au revoir.