Masala Zone, 75 Bishops Bridge Road
London W2 6BG
www.masalazone.com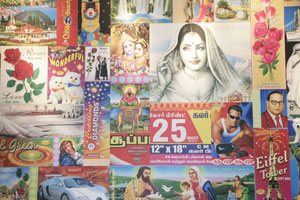 The more keenly observant among you will no doubt remember my last trip to the newest Bayswater offering of Masala Zone where some teenage behaviour was evident (my 'lack of goody bag' strop). Despite this, my friend and I returned on Monday. It was half full, steadily filling from 7.30pm onwards with a medley of locals, many Asian, which traditionally is seen as a good sign. Notably, there was a more than average count of lone diners with beer and book – it's a relatively non-intimidating place to dine solo. The décor alone provides your company- floor-deep windows to frame the Queensway thrum, technicolour posters of Lord Ganesh and Krishna, tantalising images of wet-saried women with globular curves, educational teaching aids, whatever next?
Actually, next was bevvies. I had a chaas – a thin, fat-free yoghurt drink much lighter than the conventional lassi, which along with coriander and salt, washed my palate nicely savoury. Our starters were dahi puri – puffy hollow 'biscuits" stuffed with mashed chickpea and yoghurt. These are little explosions. If the whole pod isn't jammed in the mouth at once, it's guaranteed you'll have a gooey bib. They were nice but they could have gone easier on the yoghurt and ramped up the chickpea factor. My Shikampuri kebab minced lamb patties with herbs I absolutely loved. They were moist and eggy with finely ground meat and elegant spicing.
A popular option for mains at MZ is either the grand or regular thali. These are circular stainless steel trays with an assortment of curries in tiny bowls for you to graze and much better value, I think, than curry and rice. The vegetable dishes change regularly – that day was a lovely spinach, potato and coriander curry, rough-hewn and dry as the Wadi Rum, with coriander seeds giving a good gritty texture. I got two mains with my grand thali (greedy). The Karwari prawn southern coastal dish with tamarind, coconut and red chilli was disappointingly flat, the sauce holding no prawn flavour. My chicken Mangalore with tomato and coconut was better but nothing beats my MZ fave of mutton Kolhapuri with black cardamom, pepper and star anise. It lashes your brains and floods your eyes but when the levies break, the heat is worth crying for.
On a par with the mutton and a spanking end to the show was the pistachio kulfi for puds. Rather than the usual upturned mountain peak of snowmelt, this was sliced into wedges of marbled, fudge-like cold. I would say to MZ though – educate your staff! I don't want to be told there is, 'onion and a mixture of spices," in a dish when I ask for detail. This is an Indian restaurant! I want diamond hard detail with all the pernickities! Yes, it's a high street chain but I'd ask the same of the staff in Nando's.