Sheldon Square, Paddington Central, W2 6HY Telephone 0207 286 8000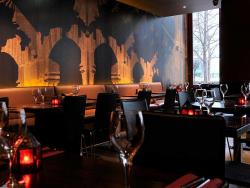 As we came out of the tube my dinner guest turned to me and said, 'I've never been to Paddington before." My Oyster card beeped in agreement.
A short canal-side walk past the bustling bars and eateries left our abstention seeming ill founded as, in the middle of the after-work crowd, we spotted our destination, Massis. A curiously subdued venue set amid towering hives of industry the food here is simple, tasty and a wonderful conduit for easy bonhomie among friends.
The more mates you bring, the more a night at Massis makes sense. On our visit the dining room was packed with large groups happily chomping and laughing their way through Lebanse classics like hummus, tabbouleh and moussaka.
Not wishing to absent ourselves from the crowd, we played copy cat and ordered up some plates of mezze. Lots of mezze in fact.
Of course we couldn't let the meal go by without the aforementioned staples, each a refined, richly flavoured version of the dishes we'd had a hundred times before. The tabbouleh in particular was bitingly fresh and provided a great counterpunch to the velvety hummus and sumptuous moussaka. It also worked wonderfully well with our indulgent rkakat, an incredibly more-ish halloumi and feta pastry roll which we wolfed down like the guilty little treat it was.
Having dipped our toes in Mediterranean cuisine we were now ready to dive a little deeper into Lebanese food culture.
For those who've never tried Sujuk.I can highly recommend it. The little lamb sausages bounce around the front of your mouth, livening things up with a plenty of garlic and spices. The Sujuk was also a great way to vary the textures we'd experienced, a must for any platter style meal.
In a restaurant that boasts expertise in a certain kind of cuisine, I think it's always a good idea to try something you can't pronounce. Mjadarrah, a fantastically understated blend of pulped lentils, rice and sweet onion, was a real find and something I shall certainly be attempting to replicate at home.
We were hoping to try one of the new breed of Lebanese wines with dinner, but the staff insisted that a light, characterful Rioja would work best with the mezze we'd selected which, in fairness, it did.
As the evening waned we considered ordering more but found our bellies surprisingly full. The time between servings and our languid pace of consumption had sated our appetite and left us unable to even consider heartier mains.
As we left I couldn't help but think Massis had planned this all along. As my grinning guest put it, 'I quite like it in Paddington." I nodded in agreement, already wondering whether I'd be having lamb or chicken shwarma next time I was here.