Greece is mostly about austerity at the moment. If you haven't already seen it on the news, everyone in Athens is eating soup.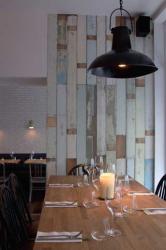 In Notting Hill, unsurprisingly, Greece is about neither thrift nor broth; it's about the 'out-dated misconceptions' of the country's cuisine being 'turned on their head'.
Mazi is a new restaurant aiming to serve classic Greek flavours and recipes with a modern twist. The name might sound like slang used by naughty people abusing anti-depressants but it actually means 'together' in Greek and there's certainly nothing about the restaurant or the food to make you frowny face.
The interior is modern, crisp and fresh. It stops pleasingly short of being as stark as some places can seem when trying to be all designer Scandinavian; wooden furniture and well-judged lighting soften the edges and make the dining room feel welcoming. Sophie Chenevix Trench, the person commissioned to design the place, has two surnames and uses phrases like 'story-telling through space', so it really ought to be good.
Starters come in Kilner jars and are designed to be shared. There are versions of classics you would expect to find alongside hummus at any girls' picnic worth its salt; taramosalata, tzatziki, a fava bean puree that's similarly dippish in consistency.
True to their word, the chefs at Mazi deliver these with a refined twist. The bean puree comes with pearl onions and syrup derived from a Greek sweet wine; the taramosalata is accompanied by lemon confit.
Our table's favourite, a sort of deconstructed spanakopita, was wafer thin sheets of filo pastry ready to be satisfyingly smashed up into spinach, feta and dill. There are eight of these jars available as starters and it would be a hard task deciding which ones not to order.
Fashionable food presentation is fairly rustic at the moment, so it's almost a pleasant change when pieces of slate with smears of sauce, cubes of meat and the like arrive at the table.
Herb crust of lamb saddle and its shoulder baklava arrived in this style, with a beautifully pink piece of lamb sitting between two neat little rolls of shoulder meat and an angular piece of fondant potato. Meat two ways is always a nice reminder of the different flavours and textures yielded by one animal, and this dish didn't disappoint.
The lamb was only bettered by the delicate but flavoursome lobster dish, which came with large pearls of lobster meat lying across orzo pasta with basil. The dish was fabulous to look at and just as good to eat, particularly if your only experience of lobster is messily cracking and excavating your way through a whole one.
Other smaller mains, like meatballs with mint and sesame and an incredibly light feta tempura, only illustrated further why chef Athinagoras Kostakos is picking up awards like 'Best Greek Chef' from Conde Nast's Traveller magazine.
'New Greek cuisine' is a concept likely to be unfamiliar to most but Mazi is a great place to get to know it better. From the food to the exclusively Greek wine list, this is a new restaurant offering something different and interesting and, when almost everywhere else seems to be doing steak, burgers or tapas, that is something positive in itself.
If the standard of cooking remains the same then the steady stream of people coming into the restaurant to ask for a table on the night I was there will continue to flow in the future. It's an elegant restaurant with an unusual concept that is producing interesting and enjoyable food at reasonable prices.
The consumption of lamb fillet and lobster may not be the greatest gesture of solidarity for our struggling comrades over in Greece but there's a good chance that by trying Mazi, you'll enjoy helping a Greek establishment prosper here on British soil.