17 The Green, W5 5DA meatandshake.com
Feeling mildly fragile, and majorly hungry, Tom visits the Ealing outpost of Meat & Shake for his second experience…
It's quite obvious that enjoyment in a meal is dependent on much more than just what is on the plate. The service, the volume of the music, the cutlery and the other diners, all have their affects on a meal.
Even factors completely out of the restaurant's control can completely change the course of a dinner.
Luckily for Meat & Shake, the outside factors, which affected my Sunday trip to their Ealing restaurant, namely several drinks too many the evening before and sunshine in the sky, worked very much in their favour.
The Tooting-born halal BBQ restaurants have stuck to similar styling in Ealing, which I was glad to see upon arrival. Yet again they have skillfully walked the fine line between comfy, appropriate, steak house styling and plain cheesy, animal-skulls-on-the-wall, budget American diner dump. The newer Ealing restaurant is quite a bit bigger too with one hundred covers giving the owners a few more options, and the meat-eater a little more space.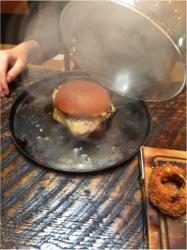 A root beer was the first port of call as I knew it wouldn't taste anything like any of the beverages over-enjoyed the night before.
Since my last visit to Meat & Shake the menus have bulked up. The burger selection still features proudly, and long may it do so, but new BBQ dishes have been added and the sides have expanded.
All good news.
We shared Hot Link Sausages to start, which came out with pickles, some sliced chillis and a pot of American mustard. The beef and lamb sausages had just the right'snap' to the skin, the fast-smoking process they had been through presenting a moreish smokiness.
We fought over the last piece.
My Accomplice's main course was served with a double side of drama. Firstly, there were no beef burgers left. But once swapped for a chicken burger, served with chipotle mayo, smoked cheddar, sautéed onions and smoked turkey bacon, then presented at the table under a cloche full of woodchip smoke, all was forgiven. Best of all the style had substance, with the soft bun holding onto the flavours of the smoke throughout.
My smoked ribs were everything ribs should be – the dark, sticky bark on the outside shouting with flavour, then giving way to juicy, generous amounts of rib meat. Meat & Shake cure all their cuts in beef stock, salt and pepper for at least a day and it's this extra prep effort that pushes dishes like these ribs ahead of many I've had.
After trying them first in Tooting, I knew I would be ordering onion rings days before. Meat & Shake use panko breadcrumbs giving the rings an incredible crispness, genuinely some of the best onion rings I have had in the capital.
The only stumble was the chipotle mayo they were served with, which probably due to being made up at the start of shift, had developed a slightly darker coloured skin. It's not a meal-ruiner, but just like the wrong drinks that were brought to our table at one point, a little crease to be ironed out.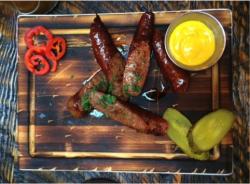 My Accomplice and I also shared a plate of Stinky Fries, which, however much I hate the name, were delicious. A large plate of fries came drizzled in Frank's Hot Sauce and crumbled Stilton. Fries, hot sauce, Stilton; it was always going to work.
When I first visited Meat & Shake in Tooting I promised I wouldn't just compare it to the other burger restaurants in London, and now with their larger menu it appears I can't.
The restaurants are turning into a real player in the London BBQ scene and on that dizzy, sunny Sunday I left feeling excited for them.
After a little more je ne sais quoi? Anita had a rather nice time at Brasserie Blanc
Or why not celebrate World Sake Day with Sushisamba?