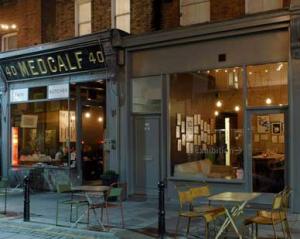 April has been a good month in the world of Marcus. Arguably the best part being my portrayal of a cuckoo, nesting in my brother's Clerkenwell residence while he jetted off down under. Reason to celebrate? Absolutment!
Hopefully the majority of people concur that formidable fodder and precious plonk is the best way to celebrate. Thus, my search began for a hidden gem around the Clerkenwell area serving cracking cuisine and wonderful wine. A name cropped up that sparked curiosity, Medcalf.
Medcalf's home is in the middle of the trendy Exmouth Market. I've already become a fan of the strip, which possesses a great selection of bars and restaurants that let their produce do the talking. That's the essence of the market, no frills or pretentiousness here, and Medcalf is a brilliant example.
The décor is a modest collection of wooden walls and furniture, tastefully compiled, with dimmed lighting from low hanging light bulbs and intriguing paintings hung around the interior. This carefully constructed layout provides a comfortable atmosphere that allows you to lose track of time and enjoy your occasion.
The appearance of my starter of pig cheek, crushed parsnip and Bramley apple fell short of captivating me when I first laid eyes upon it. The pig cheek was tender, soft and beautifully cooked. The broth in the bowl washed around my mouth and awoke my taste buds, leaving them eager to judge the smooth parsnip and sharp Bramley apple. Complimented by a very pleasant Spanish Sauvignon Blanc, the starter was great. The flavours certainly surprised me and left me with a feeling of guilt, I had completely forgotten the concept of my surroundings, this is a venue letting the food do the talking, not the 'look'.
Reorganising myself, I stifled my aesthetic judgement and tucked into my main of lamb chops, potato and green beans. The chops were moist, pink on the inside and tasted how a good lamb chop should. The creamy potatoes were a superb accompaniment, as were the crisp green beans. The enjoyment was soon interrupted by the sentence, 'I'm so full…ooh…yours looks nice!" J, (a more attractive J than my co-diner at Opus), had reminded me of the peril of dining with a self-assured woman, she wanted mine. Ordinarily this request would be rejected immediately, but I'm a sucker for a pretty face, so I surrendered a forkful of my meal.
Dessert was a real delight. A scrumptious chocolate parfait with blood orange packed with bursting citrus tang. Smooth, rich and ever so morish. It rounded off an excellent meal, served with a sweet dessert wine that was recommended by the house.
Laying down my spoon, I still felt disappointed with myself for my earlier faux pas for judging a book by its cover. There is no doubt that the standard of the food, in taste terms, is very good. Furthermore, the presentation is by no means unprofessional. Perhaps the excitement of celebrating my cuckoo act got the better of me, leaving me anticipating a work of art to arrive before me. That's not what Medcalf, or indeed Exmouth Market, is all about. It's about having a good time, enjoying your company and being treated to some wonderful flavours in some great cooking. Medcalf, a chic off-the-radar restaurant, was definitely the hidden gem that I had been searching for.