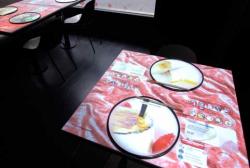 'Maybe we're not the demographic they're aiming at," says C, kindly. I am grasping and confused, sensory faculties aghast, mind rollicking. OK, it's not quite that bad but I feel a bit luddite here at Inamo, the hi-tec Soho restaurant where the menus are interactive, and you can webcam into the kitchen from your table top.
The annoying one and a half hour dining slots add to the panic. By the time you've navigated the tablecloth, you're almost out on your ear. I have audio-visual sensory overload, not helped by the clubby music pumping up from the basement bar.
And the menu was tricky. It kept mistakenly almost ordering dishes for us that we had only browsed – once you hit 'order", that's it, it's brought to your table within nanoseconds so you have to take care to keep tabs on the damned technology. You also can't browse an interactive menu in the way you can with paper menus and (moan) you had to shunt plates out of the way to read the thing.
Miraculously, though, we did manage to order food. This was brought by surprisingly sociable waiters given the redundancy of interaction.
My thin cut hamachi sashimi in soy mirin and truffle oil was beautiful, almost the nicest thing. Its truffle sauce was sweet and oozy but the basil was rough to the tongue and all exquisitely and delicately presented. The spinach parcels of shredded mushroom looked like jade pebbles and tasted good but the gloopy sauce as a complement was overpowering. The baby crispy prawns in light batter with a Thai mango relish were, as a £7 starter, probably not worth it but the sauces – as were all the sauces – delicious.
But the black cod marinated with spicy miso for £13.95 was the most perfect thing and for that alone I'd go back. It was like a white silken toffee, so sweet and so soft was the marinade.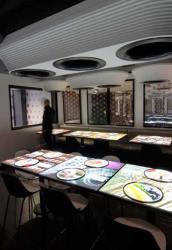 We were intrigued by the Aino-hime fizzy rose sake, a sparkling Japanese sake made using Yamada Nishiki – a short grain Japanese rice. It came in the most gorgeous bottle – now parked on my desk – and tasted like sake-flavoured wine-flavoured sake with a baby fizz. At only 7% alcohol and pink, this felt like a teen-girly drink, another novelty, but quite a frilly happy one.
I had a crispy boned poussin, in Korean chilli salts and cinnamon – served with fresh lime, which was moist at least, and quite passable. But the salt, lime and chilli confused as a dip and was too aggressive for the more delicate monotaste of the cinnamon crusted chicken.
By now we were relaxed enough to play a bit more with the screens. They showed you a map of Soho with random attractions highlighted. Perhaps rather than just telling us there was a cinema nearby, listings could have been more helpful? Our neighbours – a gang of six boys and girls in their early 20s, were content though, playing battleships. Crazy kids.
Towards the end of the measly time slot, we dared to have fun and started experimenting. All this place needs is a little more time for the punters and luddites among us and even our demographic will prevail.