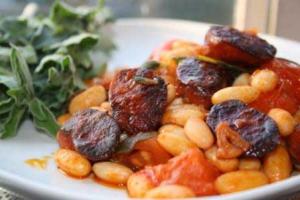 There are some wonderful herbs in our supermarkets right now. Spring brings new tastes and flavours to us and gives me inspiration to experiment with some of my favourite ingredients and create something deliciously moreish.
Chorizo really is wonderful. No matter what you add it to, it infuses the most splendidly meaty flavour into everything it comes in contact with. Its spicy paprika character means you require no salt, pepper or indeed any other seasoning when cooking and it is guaranteed to make every meal an utterly satisfying one.
This delicious warm salad can indeed be eaten warm, hot or cold for that matter. It is ludicrously simple to make and takes no more than 10 minutes to prepare. It's a lovely and hearty dish that bears all the true flavours of summer with Chorizo reminding me of Spain, Cannellini beans of Italy and the heady scent of Oregano, of the Mediterranean. What else is better this time of year when the cold weather is slowly thawing out and the sun seems to be warming up the sky slowly in preparation for the summer months. It's also a great picnic dish packed full of flavour and you really don't need to serve anything else with it, unless you are greedy (like me) and crave a nice hunk of bread to mop up the juices.
Serves 2
Ingredients
250g of cooking Chorizo (I use 'Unearthed' brand mini Chorizo) cut into inch thick slices
400g tin of Cannellini beans
3 tomatoes (halved and then quartered)
Generous fistful of fresh Oregano leaves, ripped
2-3 sliced garlic cloves
Method
In a hot pan over a medium-high heat, place your Chorizo cut-flesh side down until they begin to sizzle and you see the oil from the sausages filling the pan. At this stage, add your sliced garlic and stir-fry it with the sausage for a couple of minutes, before adding your drained Cannellini beans. Make sure you coat the beans well with the lovely oils from the sausage and stir the ingredients well and allow to cook for a few minutes. Then add your tomatoes and cook for another couple of minutes, finally adding your Oregano leaves. Stir the mixture one last time turning the heat off and allowing the ingredients to cook through for a few minutes more before serving.