1 Snowdon Street, Broadgate West, London, EC2A www.lanima.co.uk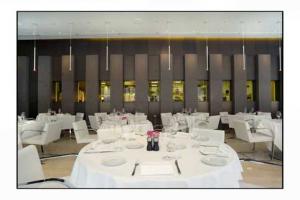 I re-visited the city recently after a prolonged absence. I'd had 10 years of it, so was more than happy to give it a miss for a while, but then I found myself craving a city lunch, among city folk, to remind myself of what I'd loved and why I left. My destination of choice was L'Anima. All the recent PR surrounding Francesco Mazzei, L'Anima's chef/proprietor, had stirred an interest in me and friends were saying, 'It's great, but expensive" so I assumed it was my destiny.
I'd forgotten how drab the city is on a rainy day, but somehow I wasn't expecting the restaurant to look the same. L'Anima, roughly translated means the soul and yet, first impressions were that it was rather soul-less. Yes, I knew it was on the ground floor of a bland office block and I'm quite certain that it would look far more appealing on a bright, sunny day; but as it was, it was an inside out umbrella day, the kind you struggle with, and the restaurant's interior did little to lift my damp mood.
For me, a memorable dining experience has several elements that make it so. The food is always the first element, but good food just isn't enough. I don't want to harp on about this restaurant's interior design, or lack of it, especially as some may actually like it; but there was a distinct lack of colour or anything to draw the eye. It's all rather flat and lifeless. The kitchen is partly on show, disguised by a rather brutal looking concrete column wall (really not nice). It all put me in mind of an airport dining lounge. Funky retro chairs were the only thing worth mentioning, but even they were looking a little worn. It needed some big, bold light shades and blinds that didn't look like the previous office tenants had left them behind. The toilets were smart though, and luxurious Jo Malone candles must sadly prove an impossible temptation for some, shoved into Gucci bags after one too many Chardonnays I suspect.
We opted for the set-lunch menu, which at £24.95 for 2 courses is silly money in my opinion. I know it's the city and most of the diners will be shoving the bill through on expenses, but aren't we all meant to be slightly more frugal in our business and private spending these days? I've always worked on the understanding that set-menus are a way of enticing people in by offering them good value for money. Had this menu contained expensive ingredients then that would be good value and you'd be comfortable paying it, but it didn't. Don't get me wrong, the food was lovely. Quality produce; simple, clean, well executed flavours, but it didn't justify this price tag.
Anyway, let's get on to the food, overpriced perhaps, but still the best bit basically and the reason why Francesco has deservedly received so much attention. Starters were subtly salty, silky slices of pancetta with perfectly firm, fresh broad beans and pecorino; ingredients that are all the best of friends, so a simple, but ideal combination. A lot like my mozzarella (buffalo perhaps, as it was bouncy and creamy) and tomato salad in fact, which came with rustic bite size chunks of Calabrian wheat frisella, (a type of bread) which had greedily absorbed the olive oil dressing and tomato juices, exploding with every mouthful. Next up for mains was grilled organic salmon with a mixed leaf salad – salmon that had clearly had a nice life, you could taste it, and cooked to perfection. My poussin was as I'd hoped it would be; crispy, sticky, smoky skin with a subtle, zingy nudge from its lemon and chilli partners. However, its accompaniment, olive oil mash didn't quite live up to my expectations. I wanted creamy, rich and luxurious; this was a little bland and there was something about the texture that didn't feel right.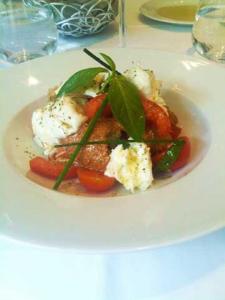 Francesco's origins are evident in these dishes, with spices like chilli used widely in Calabrian cooking. I only wished I'd had some pasta as I've been told it's 'very good indeed' (and that was by a critical Sicilian chef who knows the difference,) but I didn't, and neither my D.P or I had dessert either. Well, it's hardly surprising, we weren't on expenses you see. Coffee isn't cheap either. Blimey, £4.00 for a small latté; whatever next! I could forgive this though as it came with the most heavenly little profiterole petit fours – perfect, pop-in-the-mouth little puffs of perfection filled with lemon cream.
The staff were purposeful and efficient, but sadly the service was a little like the décor, rather bland; they all seemed to be just going through the motions, although our waiter was perhaps the exception, combining knowledge with a hint of charm.
Not so long ago prices like these may have seemed normal to me. But then, that was pre-recession and the economy wasn't in crisis. I know several good Italian restaurants in the Square Mile offering 2 course set-lunches, equally as good, sometimes better, for £16.95 in recognition of the fact that times are a changing. But then, they haven't got the man of the moment, F M at the helm have they? Personally, I think I'd enjoy Francesco's cooking a lot more overlooking the Calabrian hills, served, by him (!) in the rustic, rural environment it deserves – now, that's more my destiny.