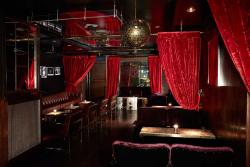 As the Kings Cross area continues its transformation into one of the capital's trendiest places to be seen, this week has seen the opening of yet another unusual meeting place, the boutique bar Megaro, tucked away on Euston Road opposite the gothic splendour of St Pancras station
Escaping the heat and mayhem that is the rush hour Piccadilly Line, I crept cautiously down the steps into'The Dark Room' to find an oasis of cool in every sense of the word.
Megaro is located underneath the hotel of the same name which is also undergoing a transformation at the moment, and is divided into two spaces. The one at the rear has cosy cinema seats and, inspired by a classic film set, black and white movie photography on the walls. Swathed with velvet swags and subtly lit, it strikes me as the ideal place for an intimate evening a deux after a brief encounter at the railway station. The front area is decorated with a range of lively images depicting life in the Kings Cross area today, with funky portraits of local characters and places adding colour to a comfortable array of tables and chairs .Manager Ben Clark tells me that the display will change every few months and will feature work from students from St Martins School of Art and other local artists
Unusually for the area, both the (purposely) graffiti covered exterior and the dark interior are unlike a typical London bar, reminiscent instead of somewhere in Berlin or even New York.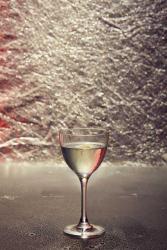 An original cocktail list features the film inspired'Lavender Hill Mob Fizz' or the grapefruit infused cachaca based'Dolma Sour' and a range of chefs plates include a delicious scallop ceviche with green strawberry and almonds, a rump Carpaccio with black sesame and soy and compressed watermelon with lemon, olive and feta   Beers and wines are reasonably priced and cocktails all come in at about £8 or £9
Although I was there on probably one of the hottest nights of the year, Megaro's basement was a haven of relaxed chic which will no doubt attract a creative crowd
Megaro Bar, 23-27 Euston Road, London NW1 2SD