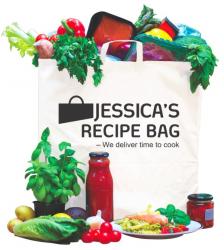 Like many busy people whenever I go food shopping, I tend to put the same old ingredients in my shopping basket.  Consequently, the meals I cook are often somewhat repetitive.  Even though I appreciate good food, I find I'm often not very creative when it comes to cooking and hesitant to experiment with new recipes, particularly during a busy working week. Frustratingly, whenever I do want to try a new recipe I don't have all the ingredients to hand nor the time to shop for them.  The idea of recipes and ingredients being delivered straight to my door really appealed to me, so I decided to give Jessica's Recipe Bag a try.
Early on a Monday evening, a bag full of fresh, tasty ingredients is delivered to your house, along with three or four recipe cards, ready for you to start cooking. Each meal is carefully created by working mother and nutritionist, Jessica Andersson, the creator of Jessica's recipe bag. Therefore you can be sure you and your family are eating a nutritionally balanced meal.
There are two different bag sizes available, one for couples which contains three meals per person and a family bag with four meals per person. The recipes are the same in both bags, but with an additional recipe and extra ingredients in the family bag.
I tried the couple's bag, which is usually priced at £45 but there is currently an introductory offer of £29 for your first one.  The family bag is priced at £69 with a special introductory price of £45. The average price per person per meal works out at £7.50 for the couples bag and a little over £4.00 for the family bag.  Whilst this might be more than you would usually spend on a weekday supper, once you factor in the time saving and convenience, it does offer good value for money.
The portion sizes of the fish, meat and poultry were generous with the meat and poultry being free range.  It was also pleasantly noted that they didn't stint on quantities for the other ingredients either and all the herbs and vegetables were really fresh.
June was Swedish month at Jessica's Recipe Bag.  The company works in co-operation with Linas Matkasse in Sweden, one of the leading recipe bag companies in Europe. The idea of trying Swedish recipes really intrigued me – as my knowledge of Swedish food had, to date, been limited to meatballs.
Delighted to find that authentic Swedish Meatballs was actually one of that week's recipes, this was the first dish I made. Unfortunately, I found this somewhat disappointing, rather bland with a sauce that seemed too rich and a little on the thick side, overpowering the rest of the dish. 
The other two recipes received in my Jessica's Recipe Bag were; Salmon with Asparagus and Potatoes and Pyttipanna -potato pieces mixed with chicken and other ingredients in a large pan.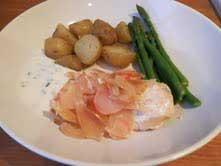 The Swedish Salmon with Asparagus was simply delightful, being by far the best of the three dishes in my view.  The salty new potatoes combined with the yoghurt, dill and chive sauce together with the spicy onions and radishes created an explosion of wonderful flavours.
Although the photographs weren't particularly appetising and I did find myself needing to re-read the instructions a couple of times, overall the dishes were simple to make and am sure that having made the dish once, they could soon be easily repeated without any reference to the original recipe.  Having tried and loved the other two dishes, I will definitely be giving the Swedish Meatballs another try as I'm sure a little tweaking of the mix of ingredients would work wonders.
I was pleasantly surprised that each dish did indeed take the stated 25-30 minutes to prepare.  Often recipes give preparation and cooking times that are pretty unrealistic, causing more stress in the kitchen, particularly when you have hungry impatient, young mouths to feed.
Perhaps one of the best parts of my experience with Jessica's Recipe Bag is that each recipe is easily replicable and adaptable. Indeed, the Swedish Salmon with Asparagus was so delicious, that I made it again a few days later as a supper party dish for friends and it proved to be a huge hit.
At the moment, Jessica's Recipe Bag don't offer strictly vegetarian bags and can't alter the ingredients to suit those with allergies. However you can view the new menu for the week ahead online and opt in and out of their subscription service as you please.
Overall Jessica's Recipe Bag is a fantastic initiative with great potential. Given their success in Europe, I think it will prove very popular with us Brits, particularly those of us who are uninspired when shopping online and in supermarkets but would like to add to their culinary repertoire.