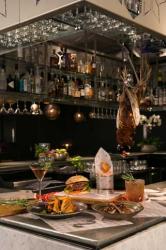 Cinnamon Kitchen is launching a rather primal pop-up: The Butcher Bar at Anise in the City. From carnivorous cocktails that include bacon-infused buffalo trace to a bloodthirsty butcher's block of choice game.
Opening on 20th August, The Butcher Bar claims it will bring 'all the butchery and blood of the countryside to the glossy heart of the City'. Coinciding with game season which officially begins on the'glorious' 12th August – The Butcher Bar will use executive chef Vivek Singh's modern Indian game specialities and give them a bloodthirsty twist.
Anise itself will be transformed into an old-school butcher, complete with hanging hooks, feathered taxidermy, weighing scales, faux animal skins on banquettes and antlers affixed to the walls with meat-inspired dishes and drinks served on a range of hunting paraphernalia.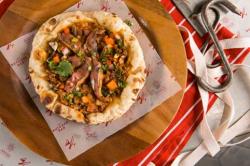 The menu is based entirely around meat, with Vivek and head chef Abdul Yaseen having crafted a menu that showcases the season. 
The big beast is The Butcher's Block (£18pp), a sharing selection of beef, venison and grouse brought to the table on a traditional block. Served with a single cleaver, guests are invited to carve their own cuts and butcher the beasts themselves.
Share-and-tear'Cinnamon Cuts' will include the likes of venison & prune kofta balls (£4.50); devilled chicken livers (£4.50); rabbit terrine with Kasundi mustard (£5.50); and aged beef sirloin with chilli (£7). Alternatively, diners can ditch the cutlery altogether and dig into Kolkata chicken wings (£4.50) and stick desi-style BBQ pork baby-back ribs (£5.50). 
Finally,'Bigger Bites' feature larger dishes such as Kentish lamb Seekh Kebab (£8); Bloody Bhangra Burger (£12) and Tandoori Grouse Nest Pizza (£14.40).
Highlights on the cocktail list will include: The Buffalo Butcher (£8,50), made from bacon-infused buffalo trace and mixed with fresh tomato, horseradish and garnished with a crispy pig's ear; Mary Had a Little Martini (£9.50), a heady mix of gin mare, clarified lamb stock and port; and Deer Me (£9), grilled venison-infused Johnnie Walker, sloe gin, sweet vermouth and rosemary.
The Butcher Bar at Anise
9 Devonshire Square, London, EC2M 4YL
Opening times: Mon-Sat 4pm-12am