12 Great Castle Street London W1W 8LR www.melito.co.uk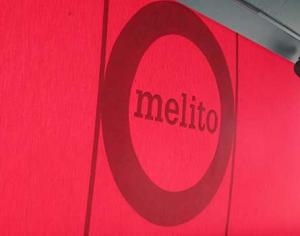 Why are some cash machines located lower than others? In any row one will always be a couple of feet nearer the pavement than the rest. Is it like the special urinal in the gents, the one that allows small boys to relieve themselves without having to jump up and down, a procedure that tends to get a bit messy?
I was pondering this, and other weighty matters, as I queued up at the machines in Great Castle Street. Suddenly a wheelchair whizzed up to the man bent double using the low machine and the charioteer started berating him heavily from knee height. 'These cash machines are for wheelchair users!' he said and suddenly all was clear. Not cash machines for children or midgets after all, but considerate planning for the differently-abled.
Meeting a perceived need is what good service is all about and where good money is to be made too. A few doors down from the bank is London restaurany Melito, a 'pizza place' that aims to be exactly what diners in a hurry want – ready to eat pizzas in right size quantity, eat in or take away.
In Rome you'll find such places all over the place, pizza by the slice cut from an original that's often the size of a tabletop. The streets are thus full of pizza munchers at all times of day and night. If you don't watch where you walk you can skid the length of Via Porchese on a half-eaten piece of pie.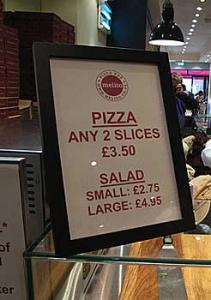 It's a concept Melito, located on the otherwise cemetery-like side of Oxford Street, has refined into a classy little space with lots of small tables, including outside ones for smokers, bright, colourful décor, snappy staff and carefully sourced ingredients to create well-priced deals that are already drawing in the crowds at lunchtime and early evening despite the out of the main drag location,
The tomato sauce is a good indicator of the quality on offer. You can tell by the pale red colour that it isn't out of a jar and the lack of wateriness indicates proper plum tomatoes have been used. Plum tomatoes, San Marzanos, are useless for salads, they're almost solid flesh, but they are just perfect for sauces. Melito makes up their fresh sauces and pizzas downstairs where they are baked in stone based ovens before being whisked up to the counter.
Other ingredients are equally well-sourced (sic) including mozzarella from Jodie Scheckter's Laverstoke Park. My Salami Piccante had a bit of that, plus rocket, but unless I got rather unlucky in the cut, the salami and mozzarella quotient was a bit on the mean side.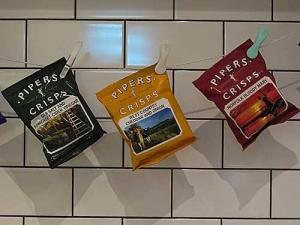 Your £3.50 does get you two slices though and my Roasted Fennel, Parma Ham, Olives and Rocket slice was good. Again an excellent base of just the right thinness and crunch while the crispy fennel was something different from the norm. The parma ham was reasonably generous, although tricky to eat as it wanted to come off as a whole sheet, and the green olives weren't those nasty briny ones you get in jars, but proper olives with good texture and importantly, no stones. Nothing puts you off pizza more than biting down hard on an olive stone when you least expect it.
The pizzas at Melito are served on simple sheets of cardboard and not only is this eco-friendly but it also gives a good indication of how much grease there might be present. Almost none at all as it turned out, showing good base technique.
Simon Prideaux is the chap behind the fast-moving slices here, a chap who has made many a restaurant and gastro-pub successful in the past. Here at Melito with his tasty pizzas, good-looking and healthy salads, great carrot cake and proper coffee I can see no reason why he can't do it again. In fact Melito could turn out to be his best cash machine yet.