Michael Neave Kitchen and Whisky Bar 21 Old Fishmarket Close, Edinburgh, EH1 1RW www.michaelneave.co.uk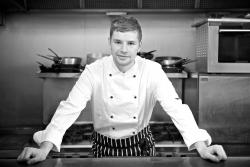 Michael Neave's restaurant is so full of good things that I don't really know where to start; the bar, the eating area, the service, the lovely staff and the baby-faced chef himself who didn't mind when I lost my bearings and tried to leave via the kitchen? All brilliant, but I will start with table envy.
It's a sin I know – one of the seven'deadlies', in fact. But we got it bad in the building at the bottom of Old Fishmarket Close off Edinburgh's Royal Mile where the young and talented Mr Neave has his name over the door and his signature on every dish. We however, wanted to get our feet under his'top' table.
The top table seats about 10 or 11 people for special occasions or business lunches/dinners, according to our waiter Graham, and is a step or two up from the main dining room, with its light beech tables and dark leather chairs, through an oval cut-out in the wall. I probably wouldn't feel like Alice Through the Looking Glass up there but I wanted to see. Maybe next time I will. I need a special occasion.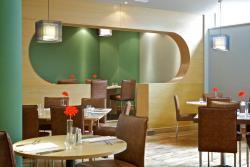 Neave has created the kind of place that warrants an occasion but which feels like the creation of perfect food is something that can happen everyday, anywhere. The bar is a lovely light space with light wood and dark leather, pale teal on the walls and too few colourful paintings for the expanse of wall. Or perhaps they like a bit of bare wall? Our aperitifs were delivered to us with the same crisp style afforded by the décor, and we had a fleeting glimpse of happiness pre table envy.
I'm kidding. Our table was lovely, and our starters of crab and crayfish ravioli served in its own bisque and rabbit and prune terrine with a tomato confit chased our blues away like a good Tim Buckley song. The ravioli was artfully distressed on the plate but incredibly composed in the mouth, said Iain, while the terrine was smoother than I had imagined it would be with pruney sweetness taking care of whatever game the rabbit was playing. The accompanying warm onion bread rolls suited us just fine but we couldn't help but laugh at Iain's onion-hating parents' assertion that British chefs'hide' onions'in everything. So, if you're not an onion fan, maybe ask about the rolls before you take a bite.
I was in a red meat mood – though green being the colour of envy I might have done better with something a little less bloody. However, I was delighted with my choice, the perfectly pink sirloin – from East Lothian's award winning John Gilmour – accompanied by fondant potatoes and a roasted tomato which was… well, just a tomato really but there's a reason why tomato is served with steak. It works. As did the curly kale. Iain's salmon looked fairly minnow-like at first sight, but with the smokie (corr) fishcake and rich veloute studded with lots of nutty, sweet brown shrimps, the fish proved just the right size.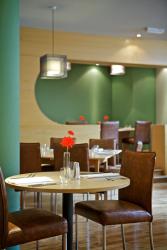 To finish a truly fine dining experience, I chose raspberry and chambord soufflé with homemade shortbread. While the soufflé was light, sharp perfection, the shortbread was a little too nutty and not buttery enough for my liking but that really does feel like nit picking. Iain was jealous of my dessert – it seems envy was the theme of the night – but his vanilla panna cotta with champagne soaked strawberries was a silky mouthful of deliciously tipsy fruit which he decided to wash down with more alcohol… a sumptious, deep amber coloured 1999 Ambré Domaine Cazes.
The Neave drinks menu is stacked with more good things.  There are wines by the glass or bottle, including an abundance of pudding wines and port, and the whisky menu boasts 33 names from Aberlour A'Bunadh to Talisker or if you fancy something a little more colourful, there's a cocktail to suit every taste, from The Botanist Bramble – Islay distilled gin with lemon juice and bramble liqueur – through an Old Fashioned – American whiskey with bitters, sugar and citrus – to the quintessential Raspberry Daiquiri – the Cuban mix of rum, lime juice and sugar with fresh raspberries. Perfect to kick off the celebrations while you're waiting for that top table. Grrr.