Royal Garden Hotel, 2 – 24 Kensington High Street, London, W8 4PT
020 7361 1988 | E.

info@minjiang.co.uk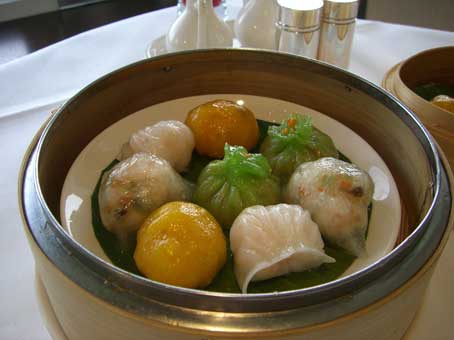 Min Jiang is definitely a room with a view. This space used to be called, rather unimaginatively, The 10th Floor Restaurant, and while the cuisine may have changed the wall of windows still look out over Hyde Park. Drink in the view at leisure in the bar with a cocktail or speciality tea, or turn into the new airy space that is understated yet crisply luxurious, clean and fresh and with staff that seem genuinely pleased to see you. Go at lunchtime and you get the see the view at its best, but even at night the twinkling lights of London landmarks invite you to play guessing games, 'Is that Canary Wharf? Is that the Eye? Is that your ex-husband's house on fire?"
The speciality is the Beijing Duck, not Peking anymore of course, but does anyone ever order Mumbai Potatoes instead of Bombay ones? This is not your average 'Peking' duck anyway, it's cooked to order in a wood-fired oven. They need at least 45 minutes notice for this or your duck will put the staff into a flap. It's best to order it in advance, or as soon as you waddle in.
We had pre ordered a half duck, which is fine for two people. A procession of Dim Sum came to the table first, the dumplings little jewels in their bamboo steamer and all showed the neatness and high number of pleats that are the hallmarks of proper dim sum quality control. Translucent wrappings made some look like strange jellyfish, while the pumpkin dumplings had an appropriately warm autumnal glow. A deep fried yam croquette was a crunchy tangle of a bird's nest wrapped around a tasty filling, while prawns and asparagus wrapped in wonton had three textures; the crunch of the wrapping, the snap of the asparagus and the smooth bite of the prawn itself .
The duck arrived, somewhat disconcertingly with its head on still, and was hand carved by one of the chefs. First some deliciously fatty slivers of meat and skin to dip into sugar, and then the meat itself expertly folded into parcels by the waitress in two ways; traditional with hoi-sin sauce, cucumber and shredded leek and Min Jiang's way with garlic paste, radish and tientsin cabbage. The duck then flew back in for an encore as spicy mince on disks of lettuce which were fiddly to eat; one splashed down in my lap, but wonderfully aromatic.
A dish of King prawns with dried chilli didn't disappoint, the chillis delicately spiking the flavours, but do beware of actually eating one of the things as then they are fearsomely hot. Braised pork belly with miniature Chinese buns was also good, a rich hunk of meat which fell apart at a chopstick prod and showed once again that the Chinese knew how to spot and cook a good and inexpensive cut of pork long before we did. Accompanying Pak Choi was well-cooked to retain both its bite and vibrant green and was anointed with a blessing of dark soy sauce. 'Min Jiang Special Wok-fried Rice with Salted Fish and assorted Seafood' was far better than the usual 'Special Fried Rice', which seems to me to be my local Chinese's way of using up the worst scraps.
The inexpensive and chilled Wolf Riesling 2007 we drank all the way through worked well with all the dishes, although a spicy red would have probably been better with the duck itself. And while desserts are never really much to write home to Beijing about in Chinese restaurants, the lemon grass crème brulee was unctuous and enjoyable, despite the brulee having separated into chunks that floated about rather aimlessly. Min Jiang is not expensive for its superior cooking and service, the duck and the view alone make it well worth a visit, but do get a window seat if you can.