380 Old Street, Shoreditch, London, EC1V 9LT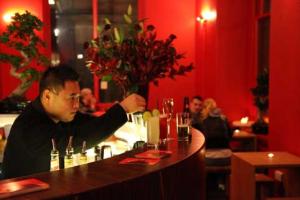 There's a parade of rickety cutesy and authentic Vietnamese restaurants clustered down the Shoreditch end of Kingsland Road in London's Hackney. They're cheap, run by Vietnamese people – many originally refugees – and functional. Shoreditch's fashion pack use them to chow down before drinking or just as a reminder of their hols to far off lands. But round the corner, in the beautiful Grade II listed Shoreditch Town Hall, Monsieur M is mounting a challenge to them all.
Monsieur M – aka owner Marc Bringmann – is very proud of the new concept he launched in December. He wants to consciously differentiate his eponymous restaurant from the cafés around the corner by being 'stylish and affordable". 'We're trying to give our customers a bit more of an upmarket feel," he says. So he gutted the site's former community café, spent a year struggling to obtain the lease and washed the whole thing pillarbox red. There are a couple of Bonsai trees and a model of Buddha arbitrarily placed around the room. Bringmann – who was an IT developer and businessman – baulks when I ask if the place is pan-Asian. 'It's IndoChinese," he says -a nebulous concept as turns out the food is both Vietnamese and Thai – the chef is Thai. So, has the restaurateur been to Vietnam to research its cuisine? Not yet. Surely Thailand? Not quite yet. But tonight the cocktail list – whose influence seems more to stem from Brazil, was launched and very passable it is too.
And that's it – the place will pass – as a sanitised, Europeanised alternative to the nearby Vietnamese-owned restaurants. You get an attractively lopsided bowl of dinner, dressed with mounds of iceberg and Lollo Rosso lettuce, whose main ingredients tend towards button mushrooms and carrots. The USP being that there are just three mains a day that constantly change, all at £7.60 each. This keeps things fresh, though it also speeds up the dining process. The sides, at £3.60, change less frequently.
Wagamama-style my friend had a Pho, the chef's version of the classic Vietnamese soup with rice noodles, herbs, bean sprouts, tofu and fried garlic. This was the nicest thing we tried though B said she couldn't taste the garlic. I had the 'tender chicken in juicy red curry with coconut milk with red chilli and rice". Again, this was fine if you don't want to be challenged – pleasant, could have done with a bit more fish sauce, though that might have offended the diners' collective palate. There also could have been more rice but there was plenty of iceberg lettuce. The pork stir-fried with cashew nut, carrot, red pepper and onion was okay; the flavours were there, if beaten into submission. The summer rolls we had as a side were good, fat and lively, jigging with fresh herbs. The corn cakes were a little gluey. We finished with a crème caramel – the only desert offered – which had been spiced up ostensibly with Pandan leaf. We couldn't taste the Pandan as it was very subtle. The waiter brought us some extra Pandan in syrup to try, which was indeed lovely, shame more didn't escape into the pudding. Apparently Monsieur M had had to bring his French fine-dining friend in to 'show" the Thai chef how to make these French puddings – the previous Thai puddings 'had had a mixed reception" he said.
Some things did get a positive reception from us. Our smoothies were great. My Monsieur M – a fresh passion fruit and lychee shake – was delicious and B loved her Laughing Buddha, she even chuckled a bit too, though I think that was the wine.
And the place was heaving on a Friday night – mainly people in their 20s, slightly better groomed and less artschool than the ones that patronise the places around the corner. But Monsieur M is happy with this version of IndoChina in Shoreditch – and no doubt the punters will be too, most of them.