Not one for frequenting Covent Garden Nick nonetheless makes an exception to eat at Japanese Murakami
Covent Garden and its surrounding area is no place to be on a Friday evening, not if you don't like crowds. First there's the mad crush underground as you wait for a lift and then there's the streets themselves heaving with people having a Friday post-work drink.
Unfazed I battle doggedly down Long Acre toward St Martins Lane, muttering darkly as another tourist stops dead in my path in order to consult a map, with the result that I all but fall over him.
These people are of course meat and drink to the local restaurants, almost literally; they are hungry, often in a rush to be fed and they don't read restaurant reviews or need to be seen somewhere that's currently hip. All too often they get ripped off by bad places, ones that know they will never see their victims again, but hey that's the case in any major city isn't it?
Murakami is on the strip but a strong case can be made for it beingconsidered less harshly than most. A big place for sure, but big is not necessarily bad. It had when I first visited though a menu that was so enormous I almost gave up. Big menus are usually a sign of using freezers to fill in for chefs.
This menu overload was noted though and now the choice has been nipped and tucked and, while still quite large is not daunting and is delivered through three kitchens to ensure speed. One thing often a constant of restaurants in theatre areas is patrons looking at their watches, worried about missing curtain up.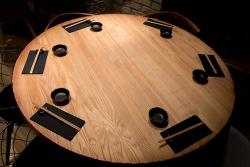 We sit at the front, against a fashionably bare brick wall. The room is quite sombrely lit but the filament lamps, that now light almost every restaurant in London, are not the orangey type so we can read the menu without getting out the mobile phone shine a beam.
I confess I am not an expert on Japanese cuisine, but I have reached the stage where I do at least know what the various things on the menu are, and to know what I like to eat on it. So we order fairly quickly, battling to be heard against a fire alarm that comically goes off every time the waiter opens his mouth and then, when that has finally stopped, a bawling baby. The nice waiter offers to move us out of earshot but we wait and the baby is soon bundled out.
So we order some sea bass nigiri, salmon sashimi, yellowtail sashimi, a selection of murakami rolls, pork gyoza, some marinated baby ribs in Japanese bbq sauce and salmon teriyaki. At this point, as the waiter left, I had the usual worrying sensation of not being sure if I'd ordered far too little or far too much. So I diverted myself away by looking about the place, which took a long look as it goes back a fair way.
The restaurant describes itself as being'modern and contemporary', whom I'm sure my old English teacher would have said was pretty much saying the same thing. That aside it is a pleasing interior, lively and colourful.
We were warned that the food could come out in any order and at any speed, as the three kitchens were cooking independently. As it was it all came very much like London buses; in clumps. This was almost too much for our small table as well as for us; a little more leisurely eating would have been preferable. While most dishes were of course cold, the hot ones could not be left alone to await our attention.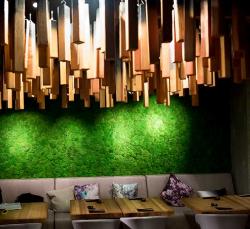 So the salmon teriyaki was good, the skin seared crisp the flesh moist. Personally I prefer the sauce to be a bit thicker and to cling to the fish more, but it had the right flavours. The BBQ sauce on the ribs was much more viscous, in a good way, and while it's a cliché to say the meat fell off the bone, it did. These ribs were I think the standout for both of us, the tastes bold and assertive when compared to the subtler charms of the raw fish we ate next.
Which too were good, the tuna particularly buttery and fine. The selection of rolls was pretty lavish and we enjoyed them all, although a couple were a bit dry around the edges like boardroom sandwiches after the clients have gone.
Gyozas I could eat forever if they're good and while I prefer the kind that have the browned bottoms best, the so-called'pot stickers', these parcels were tasty enough to have me fighting P for the last one and risking the scalding interior. Turned out we had indeed ordered just the right amount overall, no need to order any more although that's always an option with this style eating.
Aside from the speed of the service being a bit excessive, Murakami meets expectations at the price point. It's not Nobu and it's not, say Kurobuta  it occupies a niche where customers are not expecting to pay too much but want to get what they pay for and not need to be experts to order. Good for groups, perhaps less so for couples, Murakami has adapted to early criticisms and while it won't be on any hipsters' hit list of places to eat; it strikes me as doing a good job in an area not known for such work.