A well-loved fixture in Lancaster Gate for over twenty years, Nipa Thai still exudes class and produces quality Thai cooking.

I used to live around the corner from Nipa Thai and its base the Royal Lancaster hotel.

In those far off days I had a squalid bedsit above an S&M dungeon where the happy screams of contented punters would wake me up in the night, until I got used to it. As you do.

Of course back then I couldn't afford a place like Nipa Thai. if I 'ate out' at all it was fried chicken from a place near Paddington Station, with the inevitable stomach cramps come morning.

Now, as a reasonably well off Londoner, I find myself climbing the short flight of marble stairs from the elegant hotel lobby up to Nipa Thai with some excitement, having just had bad flashbacks in the lift at the station regarding my previous low life.

It's very nicely done, a warm and welcoming room with lots of wood and traditional imported fixtures that make it a continent away from the modern hotel around it.


And there's the view; large windows looking out over the Bayswater Road to Hyde Park. If you don't look down it's like being in the country. Marvellous.

I do love Thai food, the key notes of fiery fresh chilli, fish sauce and coconut always make me happy. Sometimes I prefer the street food side found in hipster parts of London, sometimes the homestyle cooking of a friend's Thai wife, and sometimes I just like it a bit of posh.

Nipa Thai is the latter, it's a restaurant in a five-star hotel, not a hotel restaurant, so it reflects the quality and style of its host, as well as the expectations of the hotel guests.

Tonight a cross section of cultures is in; I can hear Indian, Thai, Nigerian and English to name just a few languages that are all being spoken by the diners, who are not dressed up to the nines, but not dressed down either.

Service is, as is usual in Thai restaurants, warm. Even masks cannot conceal the cheerfulness and genuine welcome offered, especially by the manager who tells me he has been there twenty years, as has the Head Chef Sanguan Parr, who is a woman, which is not strange today but was a lot more unusual twenty years ago.


We abandon trying to make a choice, from a menu packed with plenty to choose from, and go for the set menu instead. This gives us more time to relax and eat the pre-tasters- excellent 'prawn crackers' with chilli sauce and a translucent summer Spring roll that is herby, fresh and palate cleansing.

Mixed starters come with a selection of colourful dips. The chicken satays must be thigh meat as they are moist and succulent. Properly charred they bathe happily in a fresh satay sauce that I would think was home made. The fish cakes are dense, verging on rubbery, but I have rarely found a Thai fishcake that wasn't. A fine taste though and not oily,

Little deep fried purses of prawn look amusing and the pastry is crisp and friable, to be eaten in one bite after dobbing it in a little of the sauce. And the mini spring rolls are gone in moments.

Overall, fairly standard stuff but none the worse for that. The restaurant has two AA Rosettes and the 'Thai Select' award from the Thailand national government, which is given only to properly authentic Thai restaurants outside the country. Nipa Thai is in fact one of only twelve to receive it.

Coconut and prawn soup, with unabashedly British button mushrooms cheerfully bobbing about, hummed with fish sauce and chili, with large bits of galangal and lemongrass adding their voices. This was delightful, a real bowl scraper and just what I craved when I went in.

Along with the set menu dishes I'd asked for a Pad Thai, such a classic. I went for the vegetable and bean curd version and it was okay; a bit too sweet for my taste but I don't doubt that was the authentic flavouring.

More to my liking was the Massaman curry with baby onions, chicken and potato. Very much a homestyle dish with earthy potatoes and irregular chunks of chicken.The sauce clung closely to every bite and had a depth of flavour that was surely the result of being properly long simmered.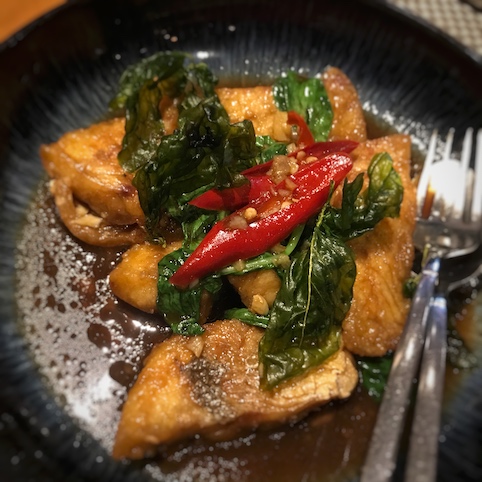 Best dish was the crisp fried Sea Bass with coriander, chillies and fried holy basil. Not all that crisp to be honest, as the sauce had softened it, but you could still get the texture hit and the fish was delish. We shovelled on jasmine sticky rice to get every bit of sauce off the pan.
The other dish was fried mixed vegetables, barely fried in fact so that they were still crisp and fresh. I would have almost thought that they'd been steamed, to be honest. Not a problem, as we enjoyed them either way.

Desserts in Thai restaurants seldom vary, and you seem to always get the fruit which resembles a poker dice somewhere in the mix. No gamble for us then ordering the Lavender flower flan with exotic fruit salsa. As expected it was light and delicate and the fruits bursting fresh

My coconut ice cream in a coconut shell was rather solid at first and I couldn't make much inroad armed only with a spoon, which threatened to bend as if I was Uri Geller, but as time passed the ice cream softened and the flavour released itself.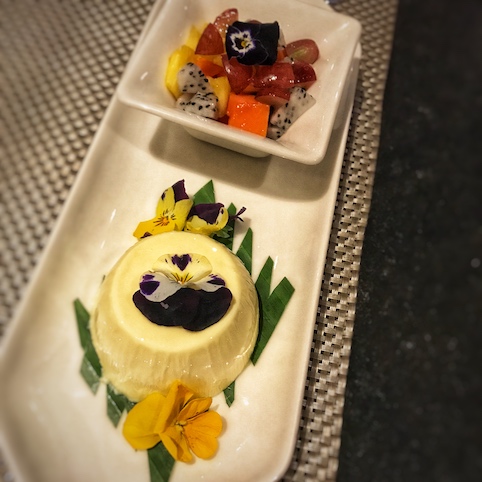 We released ourselves after a coffee, back down those marble stairs to Lancaster Gate and my memories.

Nipa Thai is not a spot for hipsters looking to recreate their Gap Year out in Thailand. It's an upmarket place for those who want to enjoy authentic Thai cooking in a smart environment, served by unflustered, charming staff. It isn't cheap but it's not madly expensive either, so no cries of pain!

Royal Lancaster London, Lancaster Terrace, London, W2 2TY
www.niparestaurant.co.uk