Bottomless Biriyani Brunch has landed in Covent Garden at Cinnamon Bazaar. Available at Maiden Lane any day between noon and 4pm .
Brunchers can choose from three of Chef Vivek Singh's biryanis: subtle and sweet Lucknow style chicken biryani, fragrant Hyderabadi lamb, or Khari Baoli root vegetable biryani, all accompanied by Anda curry and Burhani raita. 
Just £15 per person Monday to Friday and £20 at the weekend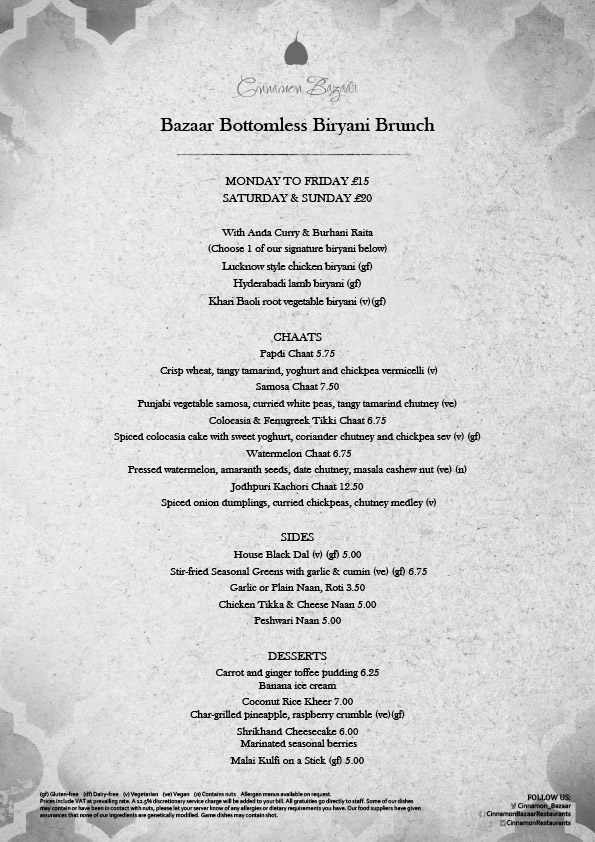 Turn it into a real Indian feast with Cinnamon Bazaar's famous chaats including pressed watermelon, amaranth seeds, date chutney, masala cashew nut and papdi chaat with crisp wheat, tangy tamarind, yoghurt and chickpea vermicelli.
There are also sides available such as the restaurant's signature house black dal or a selection of fluffy and flavoursome naans.
Located in the heart of Covent Garden and inspired by the hustle and bustle of ancient and modern bazaars from around the world, Cinnamon Bazaar by Executive Chef Vivek Singh blends Old World flavours with The Cinnamon Collection's renowned modern Indian culinary style to create a unique cultural dining experience. 
Journey through the Old World and discover something new with Cinnamon Bazaar's Bottomless Biryani Brunch this summer.
Cinnamon Bazaar
28 Maiden Lane, London, WC2E 7JS
020 7395 1400