Northcote Manor, Lancashire www.northcote.com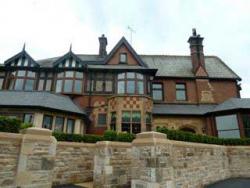 Lancashire fine dining places don't get enough copy; Michelin-starred restaurant and country house Northcote Manor, to my mind, is one of these.
But why should sappy southerners care about chef patron Nigel Haworth's gaff? Well, if there's ever a time you're motoring between Merseyside and North Yorkshire and fancy a break, flee the A59 and stop yourself in this bewitching corner.
It's just had 11 months of "intensive renovations" with a refurbished restaurant, including a steel-and-glass chandelier, and veal-coloured silk placed on the walls. The service is as formal as the décor – perhaps because there aren't many posh restaurants in Blackburn – with poker-faced waiters whose perfect manners are a tablecloth's sweep to old times.
On a quiet Monday, diners seemed to be those celebrating special occasions (and it's not cheap, this place); guests diving off that A59 and possibly clandestine affairs, fascinating to watch.
We were trying the seven-course, more experimental tasting menu (there's also a traditional one) because, if I'm going to travel this far, I may as well get the full Monty. Although if you're starving, you'd better fill up on bread as these are dainty dishes.
After cocktails on a hot pink sofa in the lounge – one aspect wonderful Bowland hills, one aspect car park, we began. Let me pick out a few courses.
The North Sea cod cheek "triple-cooked" with malt vinegar & sea salt jelly, pigs head, black peas and dehydrated parsley (course two) certainly took some decoding. It was flaked brawn on a mini fish'n' chips arrangement with a good crispy batter and little explosions of tangy jelly cube. The combination of flavours worked well but they masked the flavour of the fish; perhaps a turbot would have fought better against competing tastes.
Dish three was a simple but effective Ashcroft's beetroot rubble (I'm guessing Ashcroft is a local grower), pickled pullet egg with bronze fennel and pollen.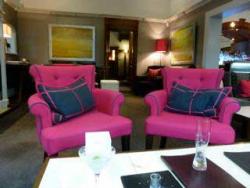 My favourite dish was local roe deer – from the Bowland estates beyond – with slow-cooked sweetheart cabbage and Yorkshire blue cheese, a relatively straightforward setup. The meat was incredibly treacly which counterbalanced the sweet cabbage and salt of the cheese.
Head chef Lisa Allen, apparently, "throws the cabbage in the oven for hours so it tastes really intense", said a waiter. And yes, our cabbage was a sugary, pulpy paste. We saw the waiter's mask slip – a secret grin – when, from hunger, we gannetted all the garnish, including the burnt, bitter outer leaves of the cabbage. Class.
I wasn't fussed by the dessert, probably because of its name, until I tasted it. Chilled coconut rice pudding, Alphonso mango, Citrus chewits and basil ice seemed a bit of an anti-climax after six courses of elaborate dinner. But it was discourteously good and in fragments – intensely chewy mango bits and sorbets doing foxtrots on the tongue.
Each dish paired with a wine, such as a 2011 Tokaji Furmint, Dobogo, Hungary – dry and complex with the complex cod – and a spicy, bullish 2009 Numanthia, Toro, Spain, which should have been good given its £16 price tag for a 125ml glass.
After coffee, it seemed weird to suddenly be back on the disconsolate A-road having left such a box of formal, high-end dining. It's good that among Lancashire's witches, barmcakes and chippies, there's another option. You know where to go now, you saucy, cheating things.
Northcote has won the 2014 title of BMW Square Meal Award for Best UK Restaurant.