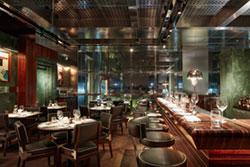 I had been looking forward to lunch at One Canada Square. A website visit revealed beautifully presented, exquisite-looking plates of food that just begged to be tucked in to. There is a certain expectation from a venue like this; situated at the rear of the lobby of One Canada Square, the building sometimes erroneously referred to as Canary Wharf, it would have to cater to a discerning crowd of financiers and other corporate bigwigs.
There are two things that strike us as soon as we walk in. First, the place has a decor that leaves you in no doubt as to the amount of money spent on it. The furniture is modern and very chic, with comfy leather chairs and a wood-panelled bar; it's dripping in corporate class. This should come as no surprise, for One Canada Square is the latest venture from brothers Ed and Tom Martin – the ETM Group – who are known for putting great effort into creating sumptuous environments.
Secondly, the restaurant isn't in its own room, so to speak; it is merely located in a demarcated area of the lobby. Building constraints perhaps made this inevitable, though we are acutely aware that we are really just tucked away in a corner of the enormous lobby.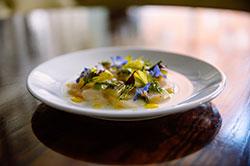 We begin by sharing a plate of scallop carpaccio, charred cucumber, borage and celery at the bar. It's certainly presented beautifully though the sauce is a little acidic for my taste. The staff are well-briefed and able to tell us everything about how the dish is made, and trust me, it isn't as simple as it sounds.
The staff are also extremely friendly and chatty, readily engaging in banter and we share anecdotes about our travels and food experiences. Some reviewers have complained that this comes across as affected, but I don't mind. Londoners can be a dull and miserable bunch and any service with Northern levels of friendliness I welcome with open arms.
Onto the main dining room, and, in fairness to the interior designers, the dining area has been placed behind the bar and out of sight which goes someway to remedying the'in the corner of a huge lobby' feeling mentioned earlier.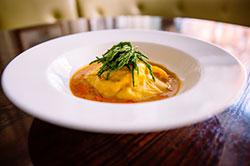 I have the crab ravioli with leeks and samphire in a shellfish sauce. It's really one giant raviolo, generously stuffed with delicious crab meat, placed in the middle of the bowl and surrounded by the shellfish sauce. It's a lovely dish and the samphire works very well indeed.
S is also very happy with his pan fried tranche of Brixham turbot. The portions aren't huge but this is an upmarket dining experience, not Forza Win, so that's to be expected. We order sides of rosemary fries and tomato salad, and both are pleasant if unremarkable.
For dessert, S has a chocolate marquise which he enjoys but it is my pineapple soufflé with a coconut sorbet that really steals the show. The soufflé is perfectly light and fluffy with a delicate, subtle taste of pineapple throughout. It's complemented by the sorbet wonderfully, which is similarly delicately flavoured. It's one of the best desserts I've ever eaten, excluding the pineapple glaze that is served separately for pouring over. I quickly learn to leave it alone – it's nice in its own right but the sweetness and acidity wash out the delicacy of the other two components so it ends up being unnecessary, a slight oddity in an otherwise commendable dessert.
Indeed, that's an accurate metaphor for One Canada Square. There is real skill here, with delicious food and friendly, well-informed service. It just feels as though they're trying a bit too hard, as though the seriousness of the location has overshadowed the key task of delivering consistently delicious plates of food.
The bankers don't seem to mind – it was a full service for lunch – but I can't help but feel that lightening up and resisting the pressure to overcomplicate things would pay dividends for One Canada Square and really propel it to the level it deserves.