Pacata, 4 New Row, Covent Garden, WC2N 4LH  www.pacata.co.uk/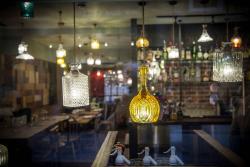 The word'fusion' evokes all sorts of preconceptions. Whether its hyperbolic fashion, or a dumbing down of one cuisine to appease another, people always have an opinion. Fact is though it's been around for donkey's years and right now I'm interested in how the concept of east meets west plays out at Pacata.
This East West mix is the inspiration behind the restaurant's name. If used in modern day Italian, un versione'pacata' actually means a'soft' or'tamed down' version of something. However, the word is also Sanskrit for'cooked food'. So, reading between the lines, I was about to sample an Asian menu created for Europeans… 
Pacata's interior is modelled on its brother restaurant in Bangkok. It's a mélange of contemporary space and knickknack detailing: exposed brickwork, decanter lamps (hung at various heights), jam jar style beakers and cosy side benches. And the number of covers is modest, which gives it a soothing ambience – certainly its spot, tucked away down the more independent New Row, helps.
So, settling in, we started out with cocktails. The menu was undoubtedly influenced by the restaurant's Thai owners, with a number of the drinks mixed with Singha. Beer-based concoctions always make me think of Tom Cruise in Cocktail, mixing a Red Eye with raw egg. Fortunately, the raw egg was absent on the Pacata menu.
Needless to say, I tried one. The resulting Bangkok Tang was eloquent and thirst quenching. Other such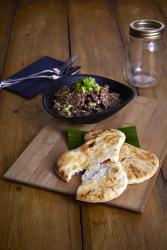 Singha cocktails include Sakura's Fall, (Sake, Singha and berries and pear). The list is a page long, and there are plenty of other Asian inspired combos for the fruitier minded, like Anahata Rama – gin, with basil, ginger and lemongrass, and a little guanabana juice.
Fortunately the starters were timely, saving my partner and I from a downhill cocktail slope. The popcorn chicken, a vehement recommendation from the cordial waiter, came served in a metal bucket, with pieces of pandan leaf. It was crunchy, with a little larb powder, the batter flavoursome with a tingle of kick.
Although a good dish, the DIY papaya salad (with soft shell crab) felt slightly gimmicky and the only reason I can fathom having to put it together yourself is to have one hand on the spice dial. (In my own experience, they can come pretty revved.) It was served on a board, the raw ingredients in a wooden bowl, and the spicy Asian sauce in a gravy pot.
For mains, the staff were adamant we try the signature Pacata Pasta. This squid ink Taglietelle, served with king prawns on top, and mixed with tofu and spring onions, was the embodiment of what Pacata does – an imaginative dish, serving to break down culinary boundaries.
My partner ordered the Beef Yakiniku with naan. Now, I've often wondered why Naan is only wheeled out where Indian cuisine is concerned and served as a combination it did work for me, although I might argue that naan should be served with something a little more saucy.
Finally, desert. The list is only three deep, which of course meant a holistic overview with little extra effort. Two of the deserts lent on green tea as the key ingredient: the brownies and the ice cream. The brownies were squidgy, topped with almonds, and didn't feel overindulgent – the green tea worked well with the sweetness. The ice cream had a slight bitterness, but works relatively well alone. The third, a Japanese cheesecake, was rich and delicious, although with no prior knowledge of Japanese deserts, I failed to differentiate it from its European counterpart.
And that was me full.
So, while at times, it was difficult to tell whether a dish had, or attempted to contain influences from both cuisines, objectively, should it matter? There was a good range of appealing dishes that were more evident embodiments of fusion, such as the Pacata Pasta, and other options like the pan-fried sea bass served with Thai green sauce.
Overall my partner and I enjoyed the evening: the menu was as eclectic as the colours on a Paul Smith shirt. But if you are after unadulterated Asian food, it's probably not the place. Similarly if you are after European food – you'd be missing the point. But if you want to be surprised by combinations, and swap the hustle of the west end for a little intimacy, with perky service to boot, then pop in.