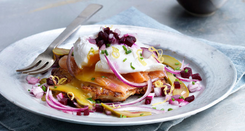 Cooking time: 30 mins
Serves: 2
Recipe by Lurpak
Brighten your day (and your friends') with the perfect breakfast pick-me-up that's not your usual.
Instructions
Grate the potatoes on the larger setting of the grater into a bowl, then gather them up and squeeze out as much excess water as you can. Put it back in the bowl and stir in the Lurpak Cooking Liquid, sifted flour, fennel seeds, salt and pepper.
Put a medium/large sized non-stick frying pan over a low medium-heat and spread out the potatoes across the pan. The end result should be very crispy, not cakey. They must be very thinly spread but with no big holes.
The rosti should gently sizzle away for 8-10 minutes on each side. When you shake the pan a good scratchy sound should be heard. This means that the potato is crisp. They should be a rich orange, golden brown in colour and semi-brittle when done. Take the pan off the heat and put a tea towel over the rosti to keep it warm.
Take a small pan, fill it with water, and bring it to the boil. Add a splash of white wine vinegar and then poach both the eggs.
While the water comes to the boil, slice the gherkins and red onion very thinly, and dice the beetroot.
Cut the rosti in half once the eggs have been broken into the poaching water.
Remove the eggs from the water with a slotted spoon and place on the rosti. Season them with a little salt and pepper. Make a nice quenelle of crème fraiche and lay it next to the egg – but not touching it.
Lay 2 slices of salmon around the eggs and crème fraiche. Then scatter the gherkin slices, followed by the diced beetroot. Then sprinkle a few slices of red onion and chives on the dish. Grate over the lemon zest and serve.Read our take on Lurpak Cooking Liquid
Find out more about the Lurpak Cooks Range
Ingredients
2 medium sized waxy potatoes, peeled
40ml Lurpak Cooking Liquid
1 heaped teaspoon plain flour
½ tsp. flaked sea salt and a good grind of black pepper
½ tsp. fennel seeds
1 tsp. plain flour zest
4 slices of smoked salmon
2 tbsp. cooked beetroot, finely diced
Zest from half a small lemon
4 cornichons (small gherkins), very finely sliced lengthways
2 eggs
½ small red onion
12 chives cut in half
2 tbsp. crème fraiche
Salt and pepper