Best known for its classic French mustards and condiments, Maille is launching new Mustard with Horseradish 
A combination of Maille's smooth Dijon mustard blended with a kick of horseradish gives this condiment an intense and refined flavour. Incorporate it into your recipes by adding it to a salad dressing for a warming edge or rub it into your beef joint to enhance the flavour before cooking. It is the perfect accompaniment to Sunday lunch, an addition to a shepherd's pie, a delicate kick to a Bloody Mary cocktail and is delicious when used in smoked fish dishes such as salmon or mackerel.
Maille Mustard with Horseradish is priced at £1.49 (205g) and is available exclusively at Waitrose and online at http://www.maille.co.uk/from April. In June it will also be available at Tesco and Ocado.
S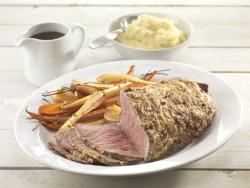 ervings: 4-6
Preparation time: 20 minutes
Cooking time:  1 hour depending on size
1 ½ kg (3 ½ lb) rib of beef, silverside or topside
2-3 tablespoon olive oil plus a little more
2 cloves garlic, chopped
2-3 large sprigs thyme, chopped
3 tablespoons Maille Horseradish Mustard
6 parsnips, peeled and halved
6 carrots, peeled and halved
1 beef stock cube
1 tablespoon plain flour
Preheat the oven to 210°C, 190°C fan, Gas 7.
Make a paste by mixing the oil with the garlic, thyme and 2 tablespoons Maille Horseradish Mustard and rub this all over the beef.
Place parsnips and carrots in base of a roasting tin with beef placed on top. Roast in oven for 30 minutes.
Turn the heat down to 170° C, 160 °C fan for 12 minutes per 500g for rare and 15 mins for medium.
Remove the joint and vegetables from the roasting tin and place on a board or large plate to rest.
Place the roasting tin on the hob, pouring off some of the fat but leaving 1-2 tablespoons. Add the flour and stir in. Cook for 2-3 mins and then gradually add 500ml water from cooking the vegetables with the stock cube.   Bring this to the boil and add a splash of red or white wine if liked. Reduce the sauce to thicken, stir in remaining tablespoon of Maille Horseradish Mustard and serve with the beef joint and vegetables.
Serve with creamy mashed potato made with the addition of 1-2 tablespoons Maille Horseradish Mustard to 500g potatoes.