Pearl Restaurant and Bar, 252 High Holborn, London, WC1V 7EN www.pearl-restaurant.com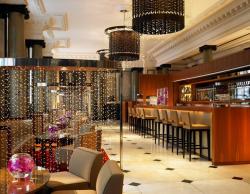 Stunning isn't a word I use often, but it absolutely fits the former banking hall of the Pearl Assurance Company in which this restaurant is located. It oozes grandeur with its intricate, beautifully renovated and preserved cornice work on the double height ceilings, the marble pillars and wall panels in this former showpiece temple to finance.
You can't help but marvel at the work that has gone into creating it and as you walk in you immediately get the feeling that you are about to share something very special. We arrived in these opulent surroundings and when at our table, sat drinking them in as we sipped on a bold, quite full bodied Italian Sauvignon Blanc and chose our meal. The furnishings and fittings in this beautiful space have a retro, kind of 70's feel about them, the pearl theme featuring throughout.
Before we had even decided what we were going to eat, our waiter brought us a dish containing four different amuses bouche for us to share. I love it when restaurants do this, it just makes the meal that little bit more special and these four little tasters were lovely.
Choices made, our waiter brought us pre starters of a velvety artichoke soup that was creamy and full flavoured and had in its centre a small quenelle of goat's cheese mousse, a deliciously lovely and welcome surprise. Shortly after, our starters arrived; the roast langoustines, scallop mousse with black spaghetti, fennel puree and sea purslane was a picture and the flavours just came together perfectly. The distinctive langoustine worked well with the more subtle sweetness of the chunky mousse, the dish was given body by the spaghetti and was counterbalanced by the fennel puree and the sea purslane. It was delightful. The caramelised scallop were cooked just right, and given some additional flavour from the finely chopped ginger and chives; these two tender pieces of sweet flesh were each served on a bed of a just al dente rich black cabbage risotto in individual scallop shells and with a piece of squid in a light crisp tempura style batter. It looked and tasted wonderful.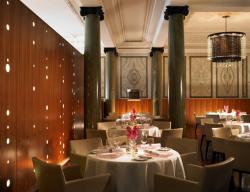 After a nice pause, our mains were brought to the table, again each a work of art on its plate. The venison was a lovely dark red inside having been cooked medium rare, as ordered, in a herb salt crust. There were the slightest traces of saltiness on the outside of the venison and it was so tender that it hardly demanded any work in the mouth, it was a well flavoured, lovely piece of meat. This came with a fresh tasting beetroot tarte tatin that had a sweetness which was great with the venison. The tarte tatin was sat on a bed of shredded buttery cabbage and the dish was finished off with a scattering of diced caramelised pear and broken walnuts, it was divine. The lamb and truffle wellington, also medium rare, as recommended, was a lovely vibrant reddish pink, it was tender and had great flavour, augmented nicely by the truffle coating separating the meat from the light puff pastry case. The wellington was supported well by some roast cauliflower, roast garlic cloves and glazed shallots that decorated the plate. This was another excellent dish.
Of course, we had to go for desserts and having chosen, along came a pre dessert of a decent sized shot glass with a quinoa pudding (a bit like rice pudding) topped with a mango and passion fruit sorbet, again great. Then desserts proper arrived; the peanut and caramel chocolate dome was amazing and if proof were needed that it was the right decision, this was it, the chocolate dome filled with a lovely mousse that had some small textured cake like lumps, in it was a delight in the mouth, rich and velvety. It was supported by some good hazelnut ice cream the two elements combining to make a heavenly dish. The custard tart with poached prunes and honey ice cream was another great dish; the tranche of tart had a hint of wobble and a delicate vanilla flavour, paired nicely with the intensely rich prune, and topped off with excellent ice cream.
With our meal we had a selection of wines by the glass following the sommeliers recommendations, and they paired with the dishes really well. It is absolutely worth seeking his advice on what to drink with your individual choices, we saw people at several other tables doing exactly the same.
I have to say, this rates among the best restaurant meals we have had. Pearl has a lot going for it, wonderful surroundings and great service carried out with a quiet and efficient elegance, setting the scene for the amazingly good creations from the kitchen led by Jun Tanaka. These three elements come together to deliver that special experience you anticipate when you initially walk through the doors .