The Perkin Reveller, Tower Wharf, Tower of London, EC3N 4AB, www.perkinreveller.co.uk
I've just had a bit of a'When Harry Met Sally' moment with an egg custard tart. It was rather a long time coming, if you'll pardon the innuendo, with a pleasurably leisurely dinner finally culminating in this timely and ultimate climax. But I'm not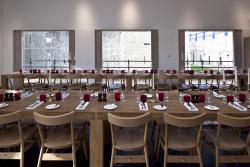 at Katz's Diner- not a bit of it. This restaurant is as staunchly British as that joint is pure Noo York, even taking its name from a character in one of Chaucer's Canterbury Tales.
According to the story, The Perkin Reveller was a notable bon vivant, and would no doubt have been a regular fixture at his namesake venue. There would have been plenty for him to revel in, that's for sure- from the best ground-level London views, to the wooden board games stashed in steamer trunks on the sizeable deck, to the well-thought out and even better-executed food and drink menus. There'd have been a seat with his name on it- in fact; all the chairs bear the reveller's stamp on both their backs and each of the rubber feet.
It's this kind of attention to detail that makes you sit up and afford The Perkin Reveller the attention it deserves. At first glance, you're dealing with a thoroughly Modern British outfit- but there's a glorious clash of the contemporary and the anachronistic which pervades the whole experience from dinner to decor. And, of course, drinks. Bar staff are fantastically enthused and informed, augmenting Brillat-Savarin's philosophy to fit each Bacchanalian barfly's tastes, shoving a few sweetly spiced nuts and shatteringly crisp parsnip chips your way while they're at it.
I like to reckon I'm dry, a little fruity and pleasantly aromatic. Thus I'm presented with the'Dinner Jacket'- a wonderfully Sahara-like aperitif that renders those salty veg crisps all the more apt. For the thirsty and exotic companion, it's a longer beverage- a sorbet-topped'Canterbury Cooler' from the totally tropical Tiki section. Prohibition specials nestle alongside Classics and historical oddities like the'Seasonal Shrub' (add chutney to taste)- on an encyclopaedic cocktail list, with syrups, infused spirits and foams all made in-house.
Walking- thankfully, not quite weaving- through to our table, that strange new-old collision hits again. It's a boxy, plate-glassed building, but the 20-foot walnut banqueting table and hanging wall pennants evoke a medieval dining hall. Flickering candlelight from a cacophony of mismatched candelabras adds to the slightly eerie ambience created by the floodlit Tower just outside. Would we like bread? The companion's glare says it'll be off with my head if I dare decline.
And he's on the money. Paul Rhodes bakes a lovely loaf, served with lush, slightly cheesy butter from the South Downs. A starter of Heritage beets and beautiful goats' curd is plated like a trio of ravioli and benefits from a smattering of crushed walnuts, whilst the eel cake with bacon disappears down an eel-loathing, bacon-renouncing gullet at alarming speed. Mains are far easier to eat than to choose- a lamb trio with artichoke and tomato features a noisette, a braised shoulder croquette, and rosy loin slices; with a bounteous Cornish fish stew it's simpler to list what didn't lurk in its saffron-scented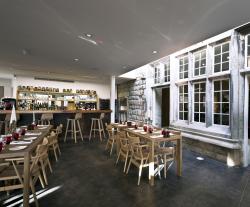 depths.
Wines are interesting, supped from lovely stubby-stemmed glasses. My white Biodynamic number claims Alsace as its home but boasts a Japanese name- apparently created for the winemaker's Japanese wife to sip with sushi. And, accordingly, it's a pretty good match for this ocean catch. With pud, though, it's back to the cocktails- the 'Crown Jewels' featuring calvados and apple foam and the 'London Noggin' a less sickly take on eggnog. A Bakewell tart inches deep slips down a treat with toasted almond ice cream, but nothing- nothing!- could trump the indecently silky perfection of that egg custard tart.
Good job I'm the one that ordered it, then. No-one else is getting a look in- although that same no-one finds solace in a nice cuppa from the Rare Tea Company. Three hours have passed- not that anyone's noticed. We're all too busy marvelling at the strange novelty of a restaurant which delivers consistently on food, drink, decor, ambience and service- a quintet which can only too often prove to be a Curate's egg. You're invited to revel, and revel you must- anything less wouldn't do The Perkin justice.